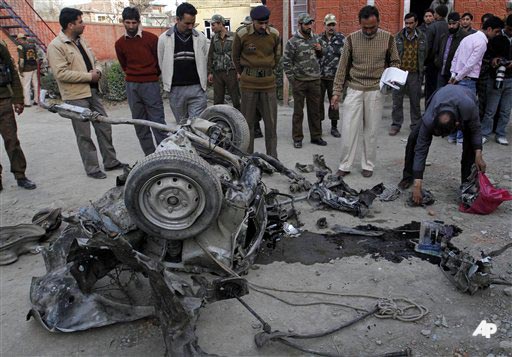 Srinagar, Mar 22: A suspected militant was killed and 20 people were injured today when an explosive-laden car blew up in Bijbehara town in south Kashmir's Anantnag district, police said.
"An explosive-laden car blew up near Bijbehara, resulting in the death of its driver and injuries to 20 civilians," SSP, Anantnag, R K Jalla said.
Jalla said the militant's target was not known as he was killed in the explosion.
Officials said the blast took place at around 3.15 PM in the crowded town, 45 kms from here, on the Srinagar-Jammu national highway.
The explosion caused panic among people who fled the area, thinking militants had carried out a suicide attack, they said.
The impact of the blast was so powerful that it left the car in a completely mangled state and police was trying to ascertain the registration details and make of the vehicle, they said.
No militant outfit has so far claimed responsibility for the blast which apparently went off prematurely.  
The identity of the deceased could not be ascertained as he was blown to pieces in the explosion, the officials said.