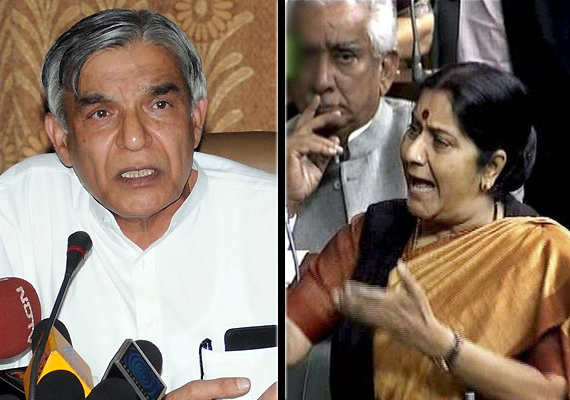 New Delhi, Mar 15: The political storm in UPA government over Trinamool issue on Thursday gave an opportunity to Bharatiya Janata Party (BJP) to charge that the government is short of numbers and is shying away from facing the amendments to the President's address in Parliament. 

However, Parliamentary Affairs Minister Pawan Kumar Bansal said the government has no problems over numbers.

Leader of Opposition in the Lok Sabha Sushma Swaraj told reporters in New Delhi that Mr. Bansal had agreed that the debate on the motion of thanks to the President's address be completed today.

The amendments were to be taken up then and the address put to vote. However, the issue was deferred till Monday.

Swaraj alleged the government did not even have the basic courtesy to inform the Opposition and kept it in the dark about the change in plans.

"This government is in a crisis. It is short of numbers and is buying time. They are running away as they do not have a majority. If the government does not have the numbers to pass the motion of thanks with amendments, then what kind of a government is this"? Ms. Swaraj said.

She said the BJP and NDA are firm on moving the amendments, especially on the issue of NCTC and "attack" on federal structure by the Centre.

Asked if BJP saw prospects of a mid-term poll and if it was ready to face one, Ms. Swaraj said "if mid-term polls are held, we are ready. It is not a question of wanting or not wanting. The way this government is functioning, the situation of governance is not there."

Senior BJP leader M. Venkaiah Naidu said "we are watching the developments with amusement. We are ready for any term."

Meanwhile, returning from Lucknow after attending the swearing-in of Akhilesh Yadav as Uttar Pradesh Chief Minister, Bansal said the government has no problems over numbers.

"I see no difficulty in carrying the motion. Nothing needs to be done. Everything is fine. Trinamool Congress is part of UPA. We are confident of the passage of Rail budget as also the General Budget," Bansal said.

He was asked whether he was sent to Lucknow along with senior party leader Motilal Vora to seek the support of Samajwadi Party (SP).

"UPA's strength is 274 and it has the outside support of SP, BSP and RJD," the minister replied.