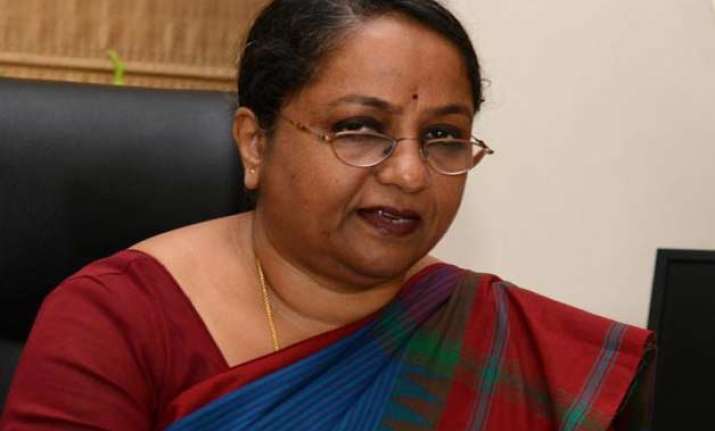 New Delhi: Former foreign secretary Sujatha Singh has decided to take early retirement from Indian Foreign service.
The tenure of the former foreign secretary Sujatha Singh may have ended 6 months before the stipulated time  but she says she wanted to leave the office early.
In a farewell email sent to her colleagues in the Foreign Service dated January 28 (Wednesday), she states that she sought early retirement and highlighted that an institution is far more important than an individual.
"I believe that the Foreign Secretary, as Head of this Service and the senior-most civil servant in the Ministry, plays a critical role in being the main point of interface with the political leadership, in giving objective advice that takes into account India's foreign policy interests over all connected and interlinked aspects.
"While individuals can and do play a critical role in building institutions, I believe that no individual is larger than the institution. It can never be about individuals. It has to be about institutions and how institutions interface and coordinate with each other," Singh said in her email.
she stressed the 'institutional strength" of the ministry of external affairs (MEA) and the importance of institutions over individuals.
Her letter, though, doesn't mention a word about her sacking.
But the speculations swirled around that PM Narendra Modi was repeatedly unhappy with her efforts to boost India's global standing.
Singh said she had been privileged to serve the IFS for 38 years, a service she considered the best in terms of professionalism and competence. "What we do possess in the Ministry of External Affairs are great institutional strengths," she wrote.
She said this strength had enabled the MEA "to prepare, to organise, to deliver and to follow up, on what has perhaps been the most charged, and indeed the most successful, calendar of any new government's post election foreign engagements".
The South Block was abuzz on Thursday over why Sujatha fell out of favor. Official sources said that it began early on during her tenure as foreign secretary as PM was aware of the circumstances of her appointment.
Former Prime Minister Manmohan Singh wanted to appoint S Jaishankar as foreign secretary but the party is understood to have intervened in favour of Singh, whose father is former IB chief T V Rajeshwar, considered close to the Gandhi family.
 
Sources also said the PMO was not happy at the quality of advice from the foreign secretary. She lacked in her follow-up after Modi's successful engagement with Japanese Prime Minister Shinzo Abe.
 
"There wasn't any specific instance. It had been building up and she had become increasingly irrelevant. Everyone knew the PMO was calling the shots," said a diplomat.
Responding to a controversy about whether the external affairs minister knew about the decision to "curtail" Singh's term, Sushma Swaraj tweeted, "I was very much a part of the decision to appoint Dr Jaishankar as the foreign secretary." She said she spoke to Sujatha personally and told her the government wanted to appoint S Jaishankar, and had to issue the orders of appointment before January 31 when he was due to retire.
Jaishankar will be accompanying Sushma Swaraj in China's visit this weekend. Swaraj will hold discussions with her counterpart Wang Yi. They will be joined by Russian foreign minister Sergei Lavrov for the Russia-India-China trilateral.
Sujatha Singh took over as foreign secretary in August 2013 after the then erstwhile  United Progressive Alliance Government appointed her to the top office of the Ministry of External Affairs.