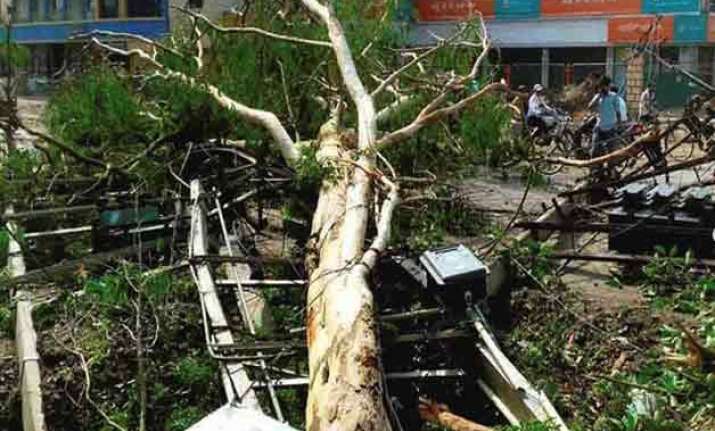 Patna: The toll in the killer nor'wester in Bihar rose to 54 as reports of 12 more deaths came from the 12 ravaged districts today.
As per latest report compiled by the state disaster management department tonight on the Tuesday late night nor'wester said Purnia bore its brunt with a maximum of 37 deaths.
Seven lost their lives in Madhepura, three in Madhubani, two each in Katihar, Sitamarhi and Darbhanga and one in Supual, the report said.
As per programme issued by Chief Minister Office tonight, CM Nitish Kumar would accompany Union Home minister Rajnath Singh in the aerial survey in Purnea and Madhepura.  Union Agriculture minister Radhamohan Singh, Union Information Technology minister and senior BJP leader Sushil Kumar Modi would be part of the aerial team, a BJP statement said here.
Nitish Kumar had made an aerial survey of Bhagalpur and neighbouring storm hit area this morning and held a meeting with officials at Bhagalpur, CMO sources said.  He said there was no forecast about the storm which took the state by surprise and left a trail of devastation.  
Governor Keshari Nath Tripathi today expressed profound grief at the human casualties and damage to dwellings in Seemanchal and Koshi regions of the state.  He asked the state government to pay Rs 4 lakh compensation to family members of the victims immediately and take up relief and rehabilitation work expeditiously, a statement issued by Raj Bhawan said.  
The Governor also asked the state government to restore transport facilities, electricity and communication network in the affected areas at the earliest, it said.  Principal secretary to the disaster management department Vyas Jee said district magistrates of the affected districts have been directed to provide one quintal food-grain, Rs 1,800 for buying clothes, Rs 2,000 for purchase of utensils besides Rs 2,000 cash to citizens whose dwellings perished in the high velocity storm.
The DMs, he said, have been told to give priority to villages badly affected in the storm.
After an aerial survey yesterday, Kumar had said maize crops had been flattened and others severely damaged.  The affected districts are Purnea, Araria, Kishanganj, Katihar, Madhepura, Supaul, Saharsa, Bhagalpur, Samastipur, Darbhanga and Madhubani in north and north eastern parts of the state.