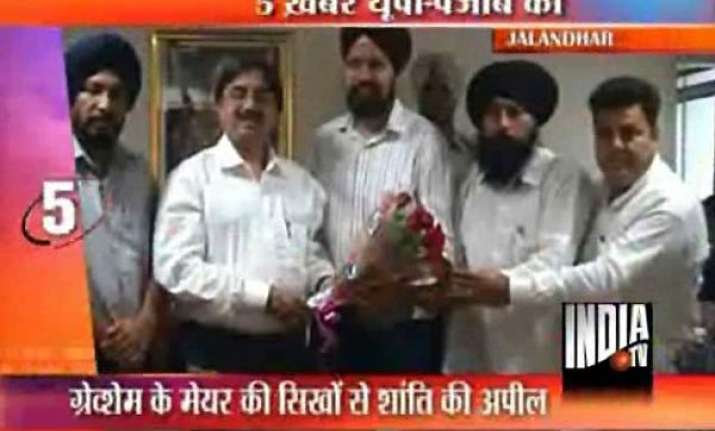 Jalandhar, Aug 12: The youngest Sikh Mayor in UK Tanmanjeet Singh Dhesi, who heads the Gravesend council, has appealed to all Punjabis in the United Kingdom to exercise restraint and inform police about rioters.

"While the Punjabi community is careful there and have prepared themselves for self-defence, they are not panicky and are extremely careful that no rioting takes place", he said here on Thursday.

Tanmanjeet Singh is on a week's tour of India. His father is the president of Gurudwara Guru Nanak Darbar, Gravesend, UK. It is the largest gurudwara in the UK spread over 805 acres.

Amid rioting and arson in UK, Sikhs there have joined hands to protect gurudwaras from possible attacks by rioters. They are also networking through social networking sites like Facebook and a campaign titled "

Sikh riot awareness UK" is on and appeals are being made for better organization of self-defence activities.

A campaign message on a networking site read, "We urge all sangat to contact their gurdwaras and plan rotas so that gurdwaras are not left unattended in the middle of the night. Between 12 and 2 in the night, people go home, leaving very few people behind, who are extremely tired, to defend the gurdwaras. Please organise and coordinate. Any problem inbox or call our sevadaars so that we can dispatch teams to your areas."

The endeavour is being appreciated by members of other communities also.

Jaspal Singh Dhesi, president of Gurudwara Guru Nanak Darbar, says volunteers have been alerted at the gurudwaras to keep round-the-clock vigil.