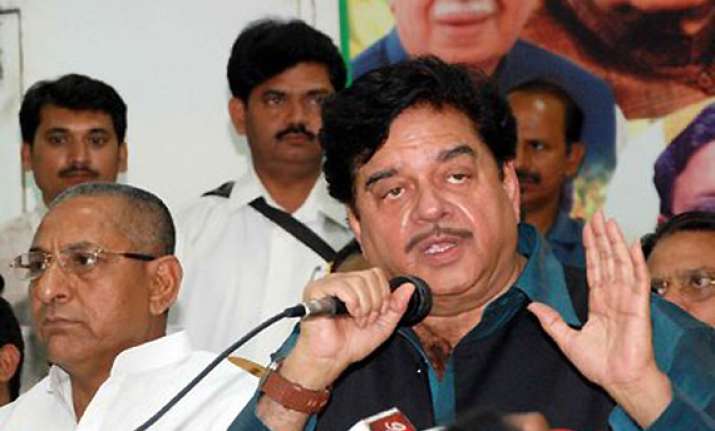 Phagwara, Punjab, Jan 28: Playing the Bihari card to woo the migrant population here, actor-turned-politician Shatrughan Sinha today struck an instant rapport with people while addressing election rallies here in support of BJP candidates.

"I have come here not as a 'neta' (leader) or 'abhineta' (actor) but as your Bihari Babu and brother," he said addressing a rally in Phagwara in support of BJP candidate Som Parkash ahead of Punjab assembly polls on Monday.

Sinha, popularly called 'shotgun', began his speech with his trademark domineering interjection "Khamosh" (quiet) when the crowd kept raising slogans for him, drowning his speech in the din.

Blessed with the gift of the gab, Sinha spiced up his impressive speech with Urdu couplets, Bhojpuri dialect, film dialogues, poetic phrases and lines and sent the audience into raptures.

Speaking of his association with Dharmendra, popular yesteryears star from Jat community, who had spent his boyhood days in Phagwara, Sinha said, "Whenever I visit Phagwara or Sahnewal (native town of Dharmendra), I feel I have come to my own home or family. I have close family relations with Dharmendra. We live in Mumbai, have been in Parliament together and our relation is that of 'bada bhai' and 'chhota bhai' ", he continued.

Calling elections a challenge, Sinha urged gathering to ensure victory with a big margin for SAD-BJP alliance.

"Political power is a medium of development, public service and economic prosperity. It is for the first time that power has become a medium of loot and corruption in Congress-led UPA government. Vote for SAD-BJP for ushering in a clean governance and also for strengthening hands of Atal Bihari Vajpayee and L K Advani," Sinha said.

Sinha slammed the UPA government, dubbing it the "most corrupt and scam-ridden" regime.

He also said that social activist Anna Hazare was also campaigning against corruption and espousing strong Lok Pal.

Concluding with an emotional chord by telling gathering he was 'aap ka apna Bihari Babu', Sinha pleaded in Bhojpuri, "Som Parkash ko jitavo, in ka jitavo babua" drawing a vociferous response from the audeince.

Earlier addressing an election meeting in Slem Tabri park in Ludhiana district, Sinha thanked Punjab Chief Minister Prakash Singh Badal for giving due respect to the people of Bihar settled in this state and appealed to the Biharis living in Punjab to come out openly in support of the Akali-BJP candidates.

There is a sizeable migrant population from Bihar settled in Ludhiana

Shatrughan Sinha said that his source of inspiration to enter politics were Jai Prakash Narain, Atal Bihari Vajpayee, L K Advani and Nanaji Deshmukh, the luminaries because of whom, "I neither got tired nor retired from the public service."