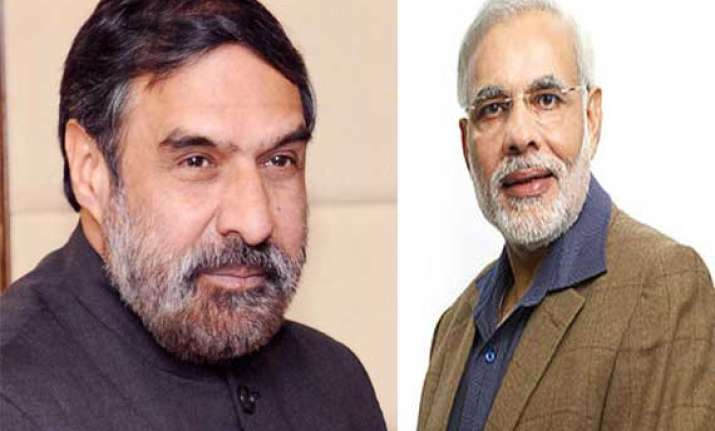 Varanasi: Union minister and senior Congress leader Anand Sharma yesterday stuck to his charge that BJP was spending Rs 10,000 crore on its election campaign and majority of it was being spent on Narendra Modi's 'false Gujarat model development projections'.
Sharma also countered the BJP's Prime Minister candidate's comments that the government should order a probe if it suspects such an expensive poll campaign, saying that Modi knows that an investigation cannot be ordered at this time due to ongoing Lok Sabha polls and therefore he was making such comments in a 'fixed' media interview.  
The minister admitted that the Congress was a bit late in exposing the 'hollow' claims of Modi. However, he did not clearly answer questions on why the government was late and why it was not ordering probe into the campaign expenses.  
The Union Minister said that he sticks to his comments and added that 80 per cent of election campaign by all parties put together is equivalent to the campaign size of BJP and Modi.  
Sharma also said that it needs to be probed how funding is being done for Modi's campaign across the country. 
The minister also questioned the timing of newly released book of Sanjay Baru and said Congress President Sonia Gandhi never interfered in government functioning.  
Sharma, however, defended release of a three-year old CD by Congress in which Uma Bharti termed Modi as 'Vinash Purush' and not 'vikas purush'.