Follow us on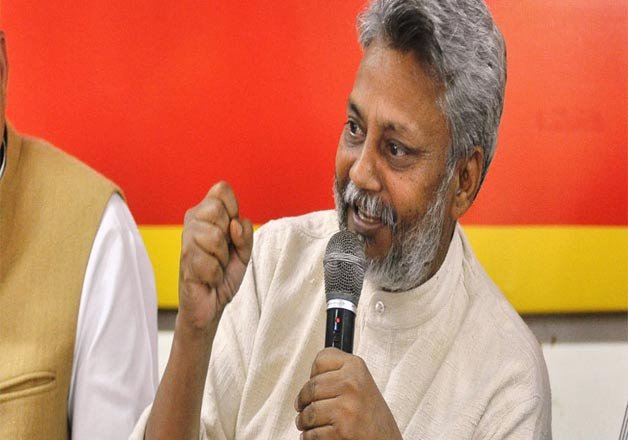 New Delhi: Introduction of a new river and sewage separation system will fulfill the needs of over a million citizens of the country who lack the availability of drinking water, says renowned water conservationist Rajendra Singh.
"We urgently need a river and sewage separation system in India. Right now we are mixing the rain water in the sewage water. If you are mixing clean water with dirty water, you can't fulfill the needs of the large numbers of people in this country," says Singh.
"If we can get the good water from rains and recharge it, that is like reserve water in the bank. We can use the reserve, which is 'A' class water as drinking water," says the environmentalist.
Popularly dubbed as the 'Waterman of India', Singh was here recently to preside a jury-meet to nominate films for the upcoming 8th CMS Vatavaran Film Festival, 2015.
The 55-year-old Singh, recipient of the Stockholm Water Prize in March this year, an award known as "the Nobel Prize for water" says that 'Johads', which he had successfully introduced in villages of Rajastan can be initiated in the other parts of the country including Delhi.
A Johad is a rainwater storage tank.
The capital city Delhi, says Singh has all possibilities to create an effective rain water harvesting system.  "All water bodies of Delhi need a rejuvenation.
These water bodies are either encroached upon or have been converted into a park or some other institution. The water bodies can be rejuvenated if they really flow into the Yamuna," he says.
"We need to catch the water which comes through Aravalli region of the hilly region. The whole water will reach Yamuna finally and that water can be used.
When the water level rises the flow in the Yamuna increases and by continuous recharge in the acquifer, Delhiites can get drinking water," says Singh.  There is also a  need for identification, demarcation and notification of mapping of all water bodies in Delhi.
Criticising the setting up of hydropower projects in different parts of the country, he says it is essential to have a small level or community level decentralised water management in India.
"We need small water bodies similar to little dams. If you create a small dam, you can fulfill the needs of a community.  So we need the community driven decentralised water level management in India," says the water conservationist.
Commenting on a report by NASA that showed large-scale irrigation caused groundwater loss in Haryana, Punjab, Rajasthan and Delhi between 2002 and 2008, Singh says the report is correct and it shows the serious problems of climate change and global warming.
"The climate change and global warming is the real threat to the earth. A fever is coming to the earth and it changes the monsoon in our country and the only way to overcome this is by planting more trees and plants," says the 2001 Ramon Magsaysay Award-winner.
Singh says in Rajasthan around 8,600 sq km area, plants and trees were planted and greenery and water conservation was attained and thus helped to overcome the threats caused by climate change.
"It was very successful and it is not late for others to do it," he says.
Singh also points out various other problems related to water which include exploitation of acquifer, pollution and encroachment of waterbodies.
Coming back to Delhi, Singh says different types of rain water harvesting is possible here, which include roof water harvesting due to the numerous buildings, including shopping malls and hospitals, dotting the city.
"They are not making any difference between the clean water and sewage water. The rain water harvesting should be effective in the malls and buildings. If it is not being harvested and conserved, it is just being used," Singh says.
Old wells can also be used to conserve water, he adds.  Singh is now heading towards the UK to attend the 'Global Water Peace March to be held in August 21.  "Due to the climate change in UK, floods hit the Thames river and the British experts called me to work with them to solve the issue.
After my visit there in November last year, they have now again invited me to attend in the march in August.
"It is as important to me because, I have been working all my life for water conservation. The march will be head towards western Europe and will finaly reach India," says Singh.