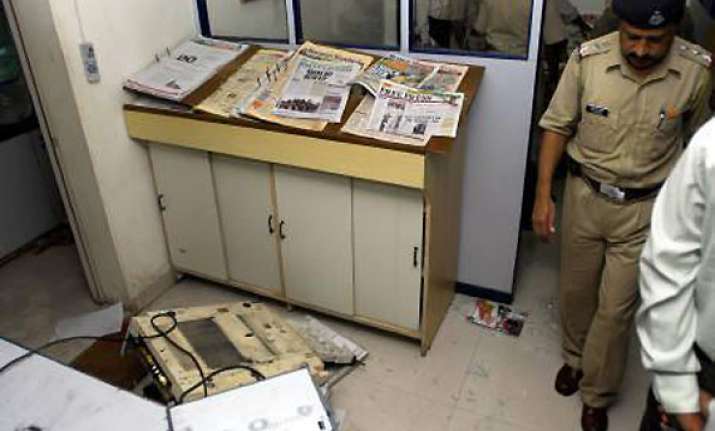 Mumbai, Apr 19: A mob of around 30 Shiv Sainiks barged into the office of news magazine The Week, from the Malayala Manorama Group of Publications, here on Thursday morning and assaulted senior executives.
The perpetrators belonged to the Sena-affiliated trade union Bharatiya Kamgar Sena (BKS).
"They demanded an immediate settlement to a labour dispute which has been sub judice at a Mumbai court," a press release from the Malayala Manorama stated.
At about 10.30 a.m, a group of 25-30 activists belonging to the Shiv Sena and Bharatiya Kamgar Sena barged into the Marketing and Circulation office of the Malayala Manorama Group situated at Lower Parel.
Upon entering the office, they went to the cabin of Geogi Eapen Zachariah, Deputy General Manager, Sales.
Under the pretext of holding discussions, they began abusing Mr. Zachariah. When he tried to reason with them, he was slapped and kicked repeatedly by around seven of these activists, who also snatched his phones.
They even damaged the landline telephone connection inside Mr. Zachariah's cabin and vandalised it.
The Sena assault was led by local corporator Kishori Pednekar, local leader Deepak Bagwe, and BKS office-bearer Dilip Pannikar. The police arrested 32 persons for rioting, including Ms. Pednekar and Mr. Bagwe.
Speaking to The Hindu before her arrest, Ms. Pednekar said, "There are 38 employees. They have not been given their allowance. These are computer operators, telemarketing personnel and so on. There is a court order that they should be given salaries. We have been following this issue and have tried to meet the management in vain," she said.
BKS president Suryakant Mahadik said, "These permanent employees were put on contract. The publication called the Kerala Chief Minister and asked the Maharashtra Chief Minister to intervene. We will give a fitting reply to such pressure tactics."
The Press Club, Mumbai, strongly condemned "the dastardly attack."