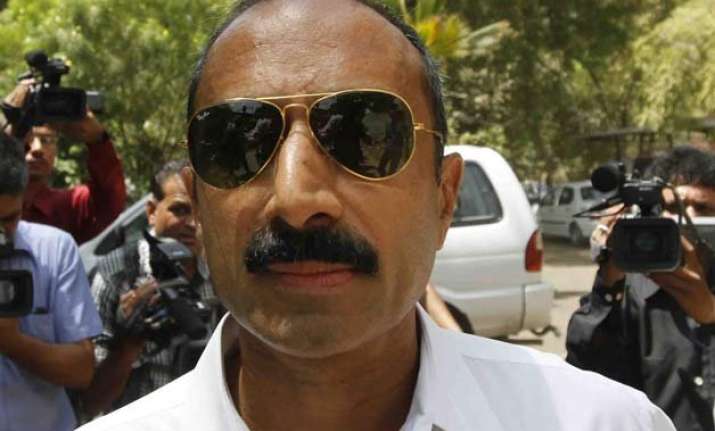 New Delhi:  Sacked IPS officer Sanjiv Bhatt on Wednesday said that he was removed from service by the Gujarat government after a "sham and ex-parte" probe on completely "fabricated" charges.
Reacting to the government decision, the Gujarat-cadre officer said he had joined the IPS at the age of 24 with a passion and fire which still continues to rage in him.
Mr Bhatt said the ground of his sacking - unauthorized absence from duty -- pertains to the period when he was deposing before the SIT (investigating into the Zakia Jafri complaint) and the Nanavati Commission (inquiring into the Gujarat riots).
"Be that as it may, the bottom-line is that if the Government of the day does not require my services...so be it. I pray to God that he may continue to kindle and stoke the passion and fire that has possessed me all these years. May He continue to lead me in my just pursuits", he said.
Bhatt said he had chosen the Indian Police Service because he saw it as a career that would add action and purpose to his life. "And I have not been disappointed one bit."
"In fact, I have enjoyed every moment of the last 27 years in the IPS. The Government of the day has decided to remove me from service after conducting a sham, ex-parte inquiry on completely fabricated charges of 'unauthorised absence from duty'," he said in a Facebook post.
"Finally removed from service today after serving 27 years in the Indian Police Service. Once again eligible for employment. :) Any takers?" Bhatt wrote on his twitter post
Bhatt, who had taken on the Gujarat government headed by Narendra Modi over the 2002 post-Godhra riots, was under suspension since 2011 for remaining absent from duty without permission and misuse of official vehicles.
Also Read: Gujarat: suspended IPS officer Sanjiv Bhatt sacked
The officer had claimed he could not attend to his duties because his mother was ailing. He had also said since he was to appear before the Nanavati Commission, which was investigating the 2002 riots related cases, his presence was required in Ahmedabad -- which he also confirmed in his Facebook post.
He had alleged in an affidavit in the Supreme Court that Narendra Modi, then the chief minister, instructed the top police officers to allow the Hindus "to vent out their anger" after the train-burning incident at Godhra in February 2002.
Bhatt had claimed that he had attended a meeting in this regard on February 27, 2002 at Modi's residence in Gandhinagar.
Recently, the Gujarat government issued a show-cause notice to Bhatt over a video purportedly showing him with a woman. It sought his explanation for allegedly having extra-marital relationship; Bhatt denied that the man in the video was him.
The state government said forensic tests had supported the complaint that Mr Bhatt was in an illicit relationship with a woman other than his wife. The notice also said such conduct was unbecoming of an Indian Police Service officer and was in breach of service rules.  
Bhatt however, had denied that he was the man in the video clip, said he was ready to undergo a "detailed biometric examination" to prove it.