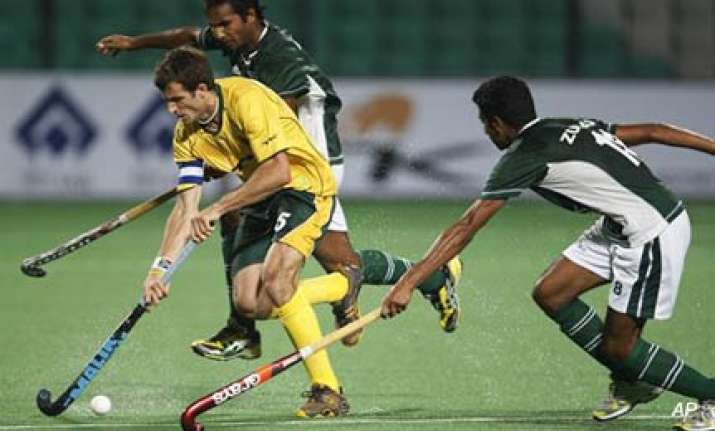 Pakistan slumped to their worst defeat in the tournament when a lowly South Africa stunned the Asian giants 4-3 in a must-win Pool B match to shatter their semifinal dreams at the hockey World Cup in New Delhi on Saturday .
Today's defeat was also Pakistan's first-ever loss at the hands of world number 13 South Africa in the international arena.
On the other hand, South Africa not only pocketed full three points in the tournament but also registered their first World Cup win since they defeated Belgium 5-4 in 2002.
Gareth Carr (38th minute), Ian Haley (42nd), Taine Paton (47th) and Marvin Harper (55th) scored for South Africa, while Rehan Butt (5th), Imran Muhammad (68th) and Waseem Ahmed (70+3) were the scorers for Pakistan.
The match started on a pacy note with both South Africa and Pakistan going for attack from the onset.
They might have come into the match as underdogs with three successive defeats under their belt, but South Africans gave Pakistan a run for their money in the opening half.
The 0-12 drubbing at the hands of Australia seemed to have made the South Africans more determined to prove a point or two before the hockey fraternity.
The South Africans got an opportunity to score in the second minute when they earned their first penalty corner but failed to beat Salman Akbar on the Pakistani goal. PTI