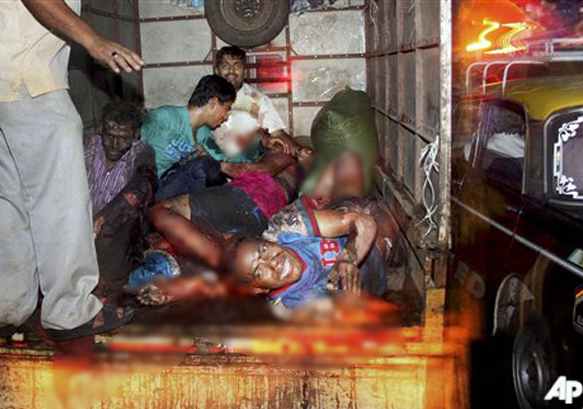 Mumbai, Jul 14 :  The Maharashtra government today announced a compensation of Rs five lakh to the families of those killed and Rs 50,000 to those injured in the triple bomb blasts that rocked Mumbai on Wednesday. 

Chief Minister Prithviraj Chavan made the announcement in the presence of Union Home Minister P Chidambaram, saying that the government will bear all the medical expenses of the victims.


He said 21 ambulances were dispatched within minutes of the blasts last evening and all the injured were taken to hospitals in a short span of time. Medical authorities were keeping a vigil on those critical, Chavan said.  "Some private hospitals have decided to treat the patients undergoing treatment for free. The Government appreciates this gesture," he said.

Thanking the people of Mumbai for their "resolute determination" to fight terror, the Chief Minister said, "Mumbaikars cooperated with the administration yesterday and we are thankful to them".


Eighteen persons lost their lives in the ghastly blasts at three congested markets. Out of the 18, one body with a severed head has not been identified as yet. As many as 131 injured have been admitted in 13 hospitals. 

"26 have been discharged, 82 are reported to be stable and 23 are seriously injured. Out of the 23, some are critical," Chidambaram told reporters.

Meanwhile, sources said State Home Minister R R Patil briefed the Cabinet on the investigations in the blasts.  CCTV inputs from all the three blast sites are being examined and analysed, the sources added.

The state Cabinet in its emergency meeting condoled the loss of lives and expressed sympathy to those who have been injured. PTI