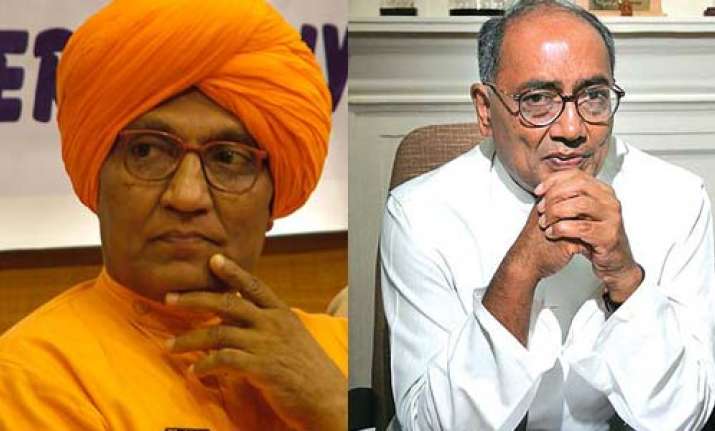 Ranchi, Apr 21:  Social activist Swami Agnivesh today said if Congress President Sonia Gandhi did not ask her party general secretary Digvijay Singh to stop statements "contrary" to her commitment against corruption, her party's image would be affected.

"We take as genuine the Congress president's reply to Anna Hazare's letter. But she should take action if Digvijay Singh speaks just the opposite to what she said in her reply," Agnivesh told newsmen here.

Gandhi had yesterday assured Hazare that she did not support smear campaigns and reiterated her commitment to fighting corruption."But if she does not rein in Digvijay Singh's statements, it will look like 'run with the hare and hunt with the hound'. This will spoil the image of the party and will be a big loss to it," he added.

The social activist visited the demolition sites in Ranchi following the anti-encroachment drive taken up by the district administration in the wake of high court's order to implement its earlier orders passed in 2003 and 2006 against encroachment.

In Bhopal,  Digvijay Singh today said he had not received any legal notice from Lokpal panel Co-Chairman Shanti Bhushan, who has found himself embroiled in a fresh land controversy over allotment of priced farmhouse plots to him and his son Jayant in Noida.  "I have not received any notice from Bhushan and even if I do, I will not reply to it," Singh told PTI.  "Bhushan should be aware that sending legal notices does not serve any purpose," he said adding that the senior lawyer should file a case against him.
Bhushan had served a legal notice on the Congress leader demanding a public apology for levelling allegations against him on a property deal.The notice was served through lawyer Kamini Jaiswal who asked Singh to publicly apologise for the "incorrect allegations" made by him against Bhushan.  A copy of the legal notice was also sent to Congress chief Sonia Gandhi.

Singh said that BJP President Nitin Gadkari too had sent him a legal notice, to which he had not replied.  The notice was sent to Singh last year for his allegations of corruption against Gadkari. He had alleged that Gadkari had amassed huge wealth in a short span of time and his antecedents should be checked."Following that the matter died its natural death," Singh said. PTI