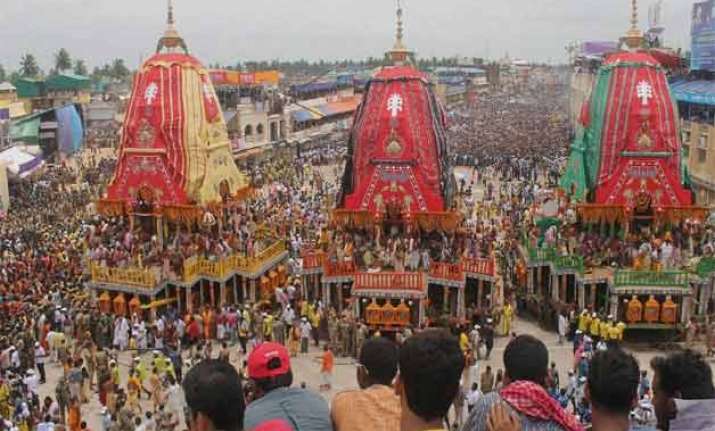 Bhubaneshwar:  The century's first Nabakalebar Rath Yatra of Lord Jagannath was held today with fanfare, religious fervour, enthusiasm and a spirit of  camaraderie.
 Lakhs of devotees from across the country and abroad descended on the pilgrim town of Puri in Odisha to witness the commencement of the nine-day  journey of the new idols of Lord Jagannath, Lord Balabhadra and Devi Subhadra to Gundicha Temple and back to their abode.
Lakhs of devotees during Nabakalebara Rathyatra in Puri on Saturday.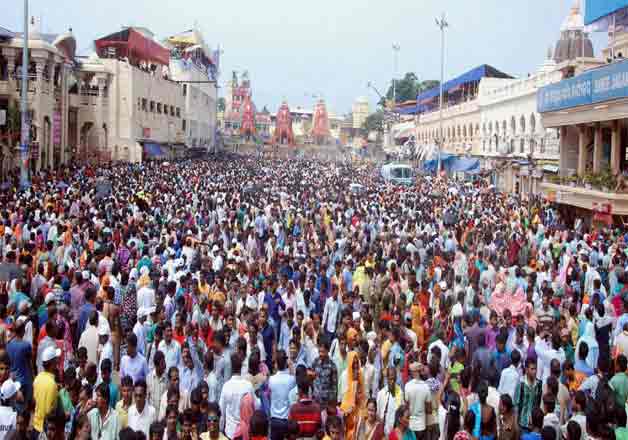 Devotees from all walks of life have been making a beeline to the town since yesterday for the world famous annual festival of chariots to catch a glimpse  of the presiding deities of the 12th century shrine of Sri Jagannath.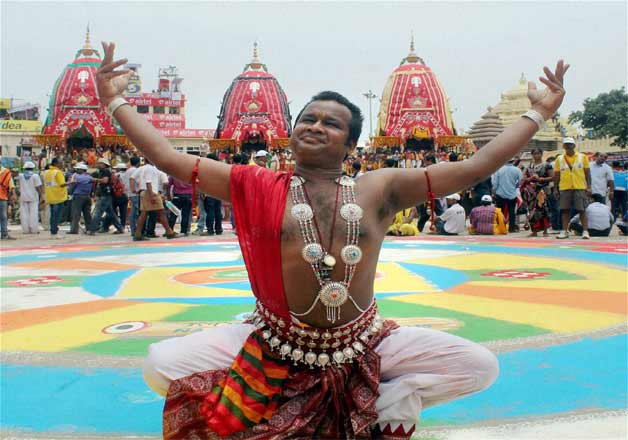 One of the devotees dances during Nabakalebara Rathyatra in Puri on Saturday
 Enthusiasm and excitement ran high among devotees as the deities remained indoors for 45 days this time due to Nabakalebara marking change of bodies  of the Lords, which took place after a gap of 19 years.
 "Naba Jaubana Darshan" of the deities was performed yesterday as they remained confined in "Anasara Pindi" (recovery chamber) after the grand bath on  "Snana Purnima" on June 2.
 With over 30 lakh pilgrims expected to attend the festivities, police have made elaborate arrangements to provide a thick security cover by deploying about  10,000 personnel besides putting air and coast surveillance in place.
"Police are well-prepared to face any situation. Besides engagement of many senior officers, 164 platoons of force have been deployed at strategic points.  Precautions have been taken to avoid any stampede like situation," IGP and Officer on Special Duty Soumendra K Priyadarshi said.
 Personnel of Anti Terrotist Squad (ATS), Rapid Action Force (RAF) and sharp shooters have been deployed at vital points while the Coast Guard keeps a  vigil on the sea.