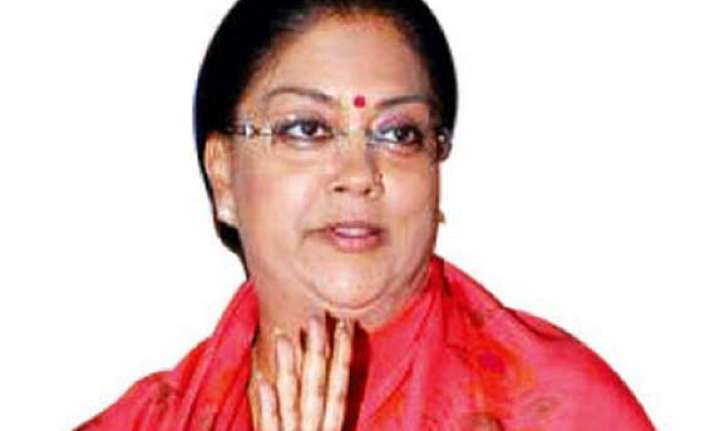 Jaipur: The Rajasthan government plans to link rivers and water reservoirs in the next five years.  Chief Minister Vasundhara Raje said that her government had initiated the ambitious project which would help in the state's development.
Raje said the pilot runs for Bunand river of Mahi Basin and Aahu river of Chambal have been already started.  "Participation of the people, particularly farmers, was very important for this project," she said.  
Addressing the inaugural session of a training workshop, 'Four Waters Concept', organised by the Rural Development and Panchayati Raj department here, the CM said different stakeholders including the general public and farmers would have a proper say in the newly initiated project for water management and also the ownership rights of water.  
She said management of water was the top priority of her government and this was the reason the experts were consulted during the past year and the draft of the project was planned.  Raje laid emphasis on out of the box thinking and efforts for the success of the project.
During her presentation, she termed rainwater, surface water, ground water and moisture in the soil as four kinds of water conceptualised in the theme of this project. She advocated for integrated management of all these forms of water.
The Chief Minister said, of the total 16.05 billion cubic meters water being received as rains in Rajasthan annually, about 4 billion cubic meter was getting wasted as run-off.  
For management of such water, a four-pronged strategy was required. "This would result in recharge of underground water table and ensure utilisation of every single drop," she said.  
During the workshop, water experts T Hanumantha Rao and Shriram Vedire also gave presentations on techniques of water conservation and management, attempts made in this sector in different parts of the globe, possibilities of implementing the Four Waters Concept in the context of Rajasthan.  
They also argued for the construction of water structures such as percolation tank with NREGS works in the villages. 
Rural Development and Panchayati Raj Minister Gulab Chand Kataria, Chief Secretary Rajiv Mehrishi, Additional chief secretaries CS Rajan and OP Meena, Principal Secretary Rural Development Shrimat Pandey and other officials were also present in the workshop.