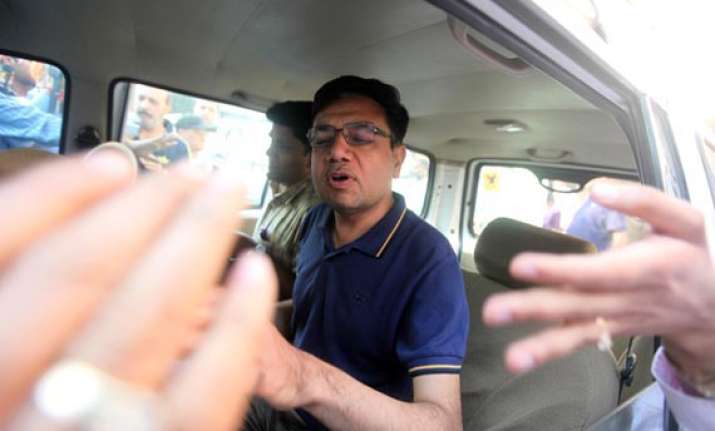 New Delhi: Three of the accused in the Rs 10- crore railway bribery case in which former Railway Minister Pawan Kumar Bansal's nephew Vijay Singla was also arrested were today granted bail by a Delhi court.
Special CBI Judge Swarana Kanta Sharma allowed the pleas of accused Rahul Yadav, Samir Sandhir and Sushil Daga and granted them bail on a personal bond of Rs five lakh with two sureties each of the like amount despite the CBI opposing it.
These three accused, who were presently in judicial custody along with others, were chargesheeted by the CBI which had alleged that Yadav and Sandhir were involved in the arrangement of bribe amount to be delivered to Singla.
The agency had said that Daga was associated with the work of arranging, transporting and payment of bribe money for another accused and then Member (Staff) of Railway Board Mahesh Kumar's desired posting and he had also contributed about Rs 4.68 lakh on his part in it.
Out of the 10 accused, who were charge sheeted by the CBI, alleged middleman Ajay Garg, who has been accused of being instrumental in fixing the bribe amount for getting a favourable post for Kumar, was granted bail by the court on July 8.
Besides Singla, Kumar and Garg, the other accused charge sheeted by the CBI are MD of Bangalore-based G G Tronics India Pvt Ltd Narayan Rao Manjunath, alleged middleman Sandeep Goyal, Rahul Yadav, Samir Sandhir, Sushil Daga, M V Murali Krishan and C V Venugopal.
CBI, in its charge sheet filed on July 2, has alleged that Singla had demanded Rs 10 crore from Mahesh Kumar for his appointment as Member (Electrical).