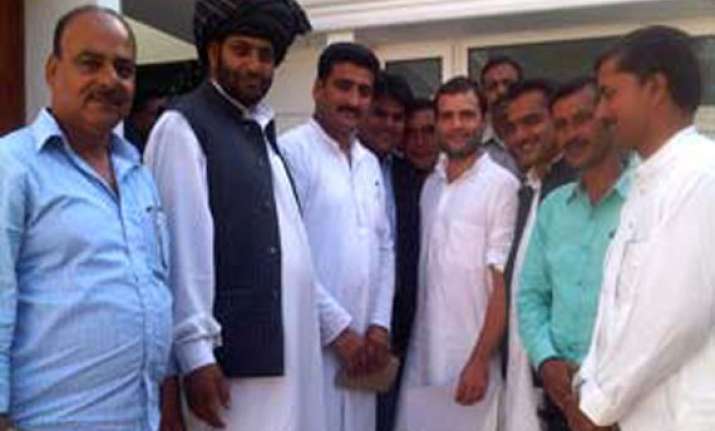 New Delhi: Panches and sarpanches will have a say in selection of 16 Congress candidates for the upcoming Lok Sabha elections, party vice president Rahul Gandhi told a delegation of panchayat members of Jammu and Kashmir yesterday.
The Congress vice president has planned "primaries" for selection of party's candidate for 16 Lok Sabha seats on an experimental basis.
The delegation from JK had come to thank Gandhi for his push for introduction of the 73rd constitutional amendments empowering the panchayats in the state.
Jammu and Kashmir's 3,300 panches and sarpanches had been demanding extension of the provisions of the amendment to the state for long. Gandhi had held a number of meetings with panchayat members in the state and pushed their demand before the state government.
The JK assembly had passed a resolution on February 8 to give rights to the Panchayati Raj Institutions (PRIs) according to the 73rd amendment of the Constitution.
"Talking to the delegation, Gandhi said that the work to empower the panchayats has just begun and Congress will give more rights to panchayats," a Congress release said.
"Talking about primaries, Gandhi said that Congress will include the voice of panches and sarpanches in party's candidate selection in 16 seats," the release said.
No Parliamentary seat from Jammu and Kashmir has been included among these 16 seats.
The parliamentary seats where candidates will be selected through "primaries" are New Delhi and North-East Delhi (Delhi) , Guwahati (Assam), Bhavnagar and Vadodara (Gujarat), Bangalore North and Daskshin Kanadda (Karnataka), Indore and Mandsaur (Madhya Pradesh), Aurangabad and Yavatamal-Washim (Maharashtra), Bikaner and Jhunjhunu (Rajasthan), Sant Kabir Nagar and Varanasi (Uttar Pradesh), and Kolkata North (West Bengal).
At an All India Congress Committee meeting on January 17, Gandhi had spoken of his plan to "finalise candidates by asking party workers".
Under the primaries, a representative section of party workers, leaders and others, will decide the Congress candidate from their constituency by participating in a simple voting process.