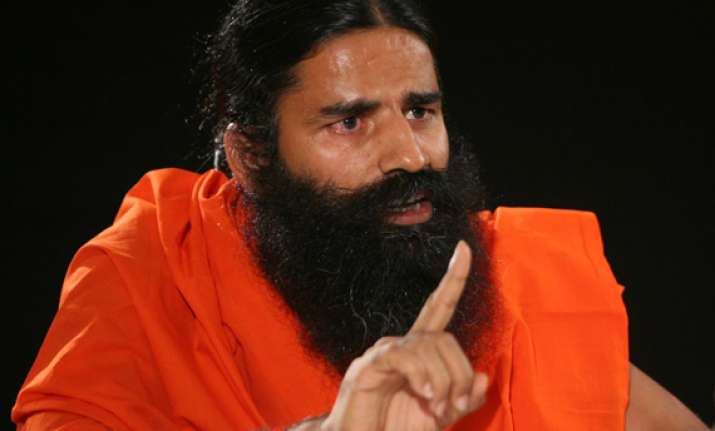 New Delhi, May 12: Making a conscious effort to shed his pro-Hindutva image, yoga guru Ramdev today shared the dais with Muslim leaders and announced he would launch a struggle to support their demand for amending article 341 that excludes Muslim and Christian Dalits from the ambit of reservation.  
Ramdev also announced that he would launch protests against the government demanding bringing back black money stashed away in foreign countries and against corruption on June 3 as well as in August.
Addressing a convention organised by the All India United Muslim Morcha, the yoga guru launched a scathing attack on almost all political parties accusing them of "not bothering" about the common man and "looting" the country's wealth through corrupt practices.
Ramdev, who is perceived to have links with saffron groups, also told the gathering that some people have tried building a wall between Muslims and Hindus and that such people should be "taught lessons."
"I did not know till recently that Article 341 does not cover Muslims and Christian dalits. This is not fair. Dalit is a dalit, whether he is a Hindu, Christian or a Muslim. So, all Dalits should get equal rights. We will have to struggle to achieve this. We will launch a struggle (for this). I extend my wholehearted support," he said.
Article 341 of the Constitution excludes Muslim and Christian Dalits from reservation.
He also said there was "prejudice" against Muslims in the country and that image has to be corrected. "We are with our Muslim brothers and sisters. My ashram has more than 3,000 Muslims. We have no religion there, nor any parity, nor temple or mosque. We are all one," Ramdev said.
Ramdev claimed that the government told the Supreme Court that he was removed from Ramlila Maidan last June as there were "anti- national elements" in the surroundings of the venue.
"What are they trying to say? There is a Mosque outside.  They tried to say that you people are out to kill me. I never believed. I consider you (Muslims) as my brothers," he said.  Ramdev claimed the government also told the Supreme Court that it evicted him because he faced threats from terrorist organisations.
The yoga guru also accused the government of not being serious in bringing back black money stashed away in foreign banks, saying over Rs 20 lakh crore money owned by Indians are parked in tax havens abroad.
He also alleged that lawmakers "do not know anything" about the country and were still making laws. "The unfortunate thing is people who draft laws know nothing. This is injustice. They loot money....people don't have money to eat, but they spend lakhs on their washrooms," he alleged.  
Ramdev also criticised Planning Commission's definition of poverty line and also alleged that politicians from several parties were involved in the coal blocs scam.  Dalit leader Udit Raj said Hindu dalits apprehensive that their rights would be taken away by other if dalit Muslims and Christians get reservation.
Former MP Ilyas Azmi said Narendra Modi was not the only politician who "ordered riots against Muslims" and accused Rajiv Gandhi of having "ordered the opening of gates of Babri Masjid." PTI