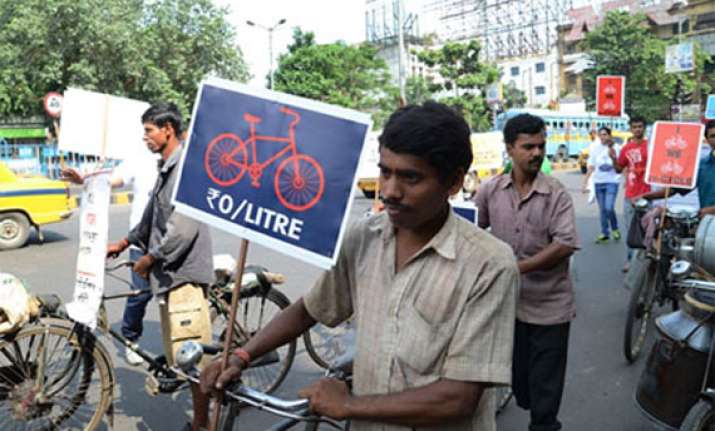 Kolkata: Around 2,000 angry cyclists Wednesday staged noisy protests in the heart of this eastern metropolis against the police enforcing a ban on non-motorised vehicles from 174 city streets.
Raising slogans against the recent seizure of bicycles and imposition of fines by the police on riders as a follow-up of the ban, the protestors cried: "Give our cycles back" as they converged in the Esplanade area of the city, despite the scorching sun.
Street plays were staged and songs were sung as part of the protest.
Cyclists, rickshaw-pullers, milkmen and newspaper vendors were among the protestors, who held placards containing statistics about environmental pollution caused by motorised vehicles.
Gautam Shroff, an official of a local cycling group, "Ride to Breathe" dubbed the authorities' decision "crazy".
"At a time when many governments were promoting cycling to reduce pollution, here one sees the opposite. This is a crazy decision," he said.
The Kolkata Traffic Police, through a May 29 Gazette Notification, banned cycles, hand carts, pull-carts, tri-cycles and other forms of non-motorized vehicles from 174 major and minor streets in the city.
The government claimed the restrictions were imposed to bring down traffic jams and increase the average speed of vehicles in the congested city.
Describing the decision as "anti-poor", the National Alliance of People's Movement - an umbrella body of civil society organisations, movements and individuals - recently asked West Bengal Chief Minister Mamata Banerjee to revoke the ban.
In a letter to Banerjee signed, among others, by Narmada Bachao Andolan leader Medha Patkar, the body said the order violated the National Urban Transport Policy of 2006 and was also an "assault on the livelihoods of working class people".