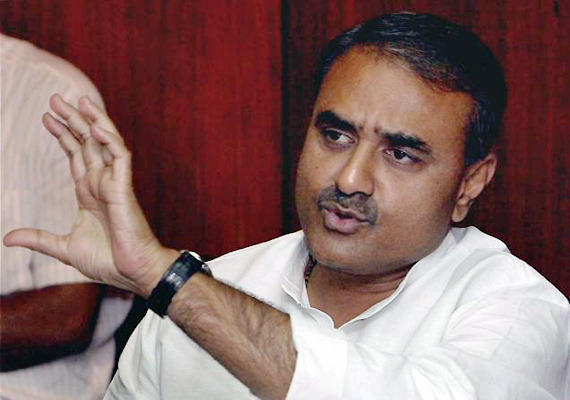 New Delhi, Feb 21: In the thick of a controversy, Union Minister Praful Patel today urged Civil Aviation Minister Ajit Singh for a thorough probe into the change of aircraft by Air India allegedly to accommodate his family members on a trip to Maldives in 2010.

In a letter to Singh, Patel referred to news reports appearing today and some on earlier occasions relating to an RTI query wherein it has been alleged that some members of his family travelled from Bangalore to Male and back in an Air India Flight which had been changed to a larger  aircraft  so as to enable them to travel by business class. 

"I am personally embarrassed and pained about the impression that is sought to be created that (a) the passengers travelled either on free tickets or were upgraded to business class, whereas they were actually fully paid business class passengers; (b) it was done at my behest;

"©Air India or any private Airlines has never done change of aircraft type  ever before if they have more bookings or for commercial reasons," he said in his letter. 

Therefore, Patel requested Singh to "immediately order an enquiry and ascertain all the facts or probe the matter in any way you deem appropriate."

"I would be very obliged if you take this up  at the earliest so as to clear the doubts and wrong impression which have emanated out of the RTI query and sensationalised media reports," he said.

Asked about this controversy, Singh told reporters, "they (Air India) should not have done this (changing the aircraft)."

According to documents supplied under RTI, Air India had deployed larger aircraft to apparently accommodate the family of Patel on their trip to Bangalore-Maldives in April 2010, file notings disclosed by the national carrier indicate. 

It had earlier been claimed that since the seven business class seats were already booked on the IC-965, flying from Bangalore to Male, Air India switched to bigger aircraft A320, with 20 business class seats, to accommodate seven members of Deshpande family—in-laws of Patel's daughter Avni. 

The passenger list now disclosed after the directives of the Central Information Commission shows that the Deshpandes were indeed on board IC-965 April 25, 2010 for Bangalore-Male and IC-966 from Male to Bangalore on April 28, 2010. 

The list shows seven family members who travelled on the flights included Congress leader R V Deshpande, Radha Deshpande, Prasad Deshpande, Meghna Deshpande and Master Dhruv, in addition to Avni and her husband Prashant Deshpande.