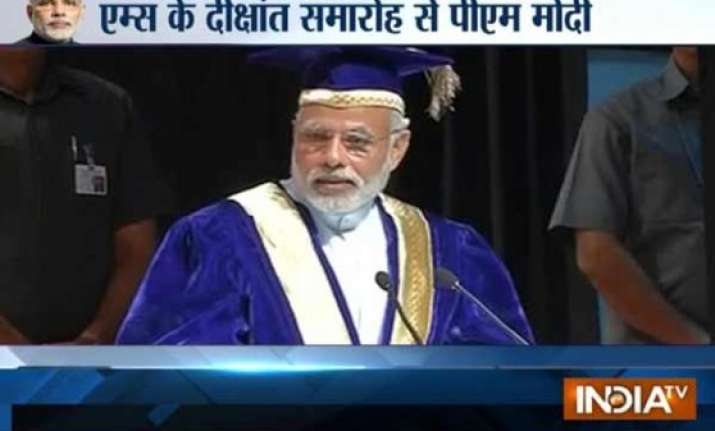 New Delhi: Prime Minister Narendra Modi today attended the 42nd convocation of All India Institute of Medical Sciences (AIIMS) in New Delhi.
Clad in academic attire, the Prime Minister, who was accompanied by Union Health Minister Harsh Vardhan, handed over medals and degrees to the students.
Modi also felicitated Professor P Venugopal who performed India's first heart transplant in 1994.
Speaking on this occasion, he said that poor students should be invited to attend the convocation.
"During convocations can we have special guests? It should be a student from a poor background. He/she should come & see this. By doing so the children will feel- this should happen in my life also. The impact can be big. It has great strength," he said.
He also noted that India is way behind in the field of medical research. He said much more needs to be done and asked doctors passing out from AIIMS to give back to society which has 'contributed' in making them what they are.
He also asked doctors to work among the poor in far-flung areas at least for a week in a year.
"You are so lucky to have studied in an institution like AIIMS. I leave you in hope that as children of mother India you will give back to society which has given you so much love...," he said.
Modi said Indian doctors have made a name for themselves world over but the country was far behind other countries in the field of research.
"In the field of research we should become more conscious towards case history. We should record the case history of patients and it can give us valuable information in two-three years. It may be possible that some among you could become a research scientist," he said.
In an apparent reference to Health Minister Harsh Vardhan's remark that over 40 per cent of AIIMS doctors go abroad for work, Modi said he was not aware if the thought of giving back crossed their mind as the country diverted budget from different sectors to their field, which made them what they are.
The Prime Minister also asked the students to keep the student in you alive.
"That is when something can be done. Do not think your student life has ended here," Modi said.
The Prime Minister further asked students to be serious about responsibilities but don't live life in seriousness.
"Life should be spent happily," the Prime Minister said.
"I was never a good student, nor did I get a chance to receive an award," the Prime Minister added.
He also told students to developed Ekalavya like mindset.
"From the classrooms here you are entering a bigger classroom. The mindset of Ekalavya is required," he said.
"While you were in classrooms you were very protected. There was always someone to help you from seniors to faculty," he added.
"When you entered AIIMS for first time, do you remember the dos and donts you were told. Today is something like this only," he further said.