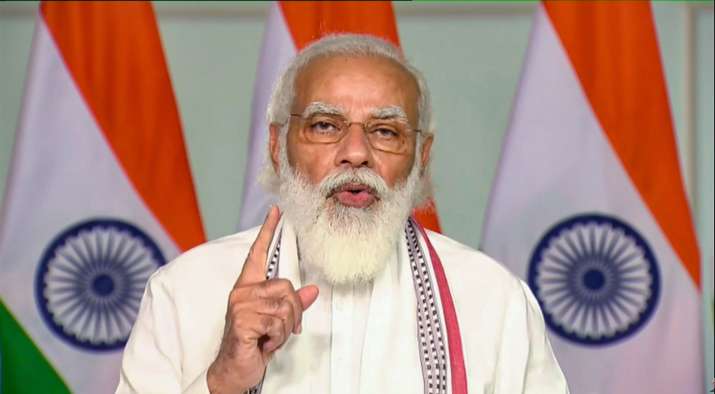 Prime Minister Narendra Modi has assured citizens that everyone in the country will be inoculated once a vaccine for the highly-infectious coronavirus becomes available. "No one will be left behind," the prime minister said in an interview with the Economic Times. 
"I would like to assure the nation that, as and when a vaccine becomes available, everyone will be vaccinated. None will be left behind. Of course, initially we may focus on protecting the most vulnerable and the frontline workers," Modi said. The prime minister said a National Expert Group on Vaccine Administration for COVID-19 vaccine has been constituted to chart the way forward.
"We should also realise that vaccine development is still work in progress. Trials are on. Experts can' say what the vaccine will be, its dosage per person, periodicity or how it's to be administered etc. All this, when finalised by experts, will also guide our approach on taking the vaccine to citizens," he said in the interview. 
Modi exuded confidence on making the vaccine reach every person in India immediately. "On logistics, more than 28,000 cold chain points will store and distribute COVID-19 vaccines to ensure they reach the last point. Dedicated teams at state, district and local levels will see to it that the vaccine distribution and administration is done in a systematic and accountable manner," he said. The prime minister also informed that a digital platform was being prepared to enroll, track and reach the beneficiaries. 
Striking a note of caution, Modi said there is no room for complacency. "The virus is proving to be very fickle. At one time, some places like Gujarat were seen as hot spots while the situation seemed to be under control in Kerala, Karnataka etc. After a few months, things have improved in Gujarat but turning for the worse in Kerala. This is why I feel there is no room for complacency. I stressed the same in my recent message to the nation on October 20 that the only way forward is to take precautions such as wearing mask, hand washing and social distancing because jab tak dawai nahin, tab tak dhilai nahin," he said.
Last week, Prime Minister Narendra Modi had suggested developing a vaccine delivery system that is on the lines of how elections are conducted in the country and disaster management work is conducted. Modi said that in a similar manner the vaccine delivery and administration system should be put in place.
At least three vaccines are in advanced stages of development in India, out of which 2 are in Phase II and one is in Phase III. Indian scientists and research teams are collaborating and strengthening the research capacities in neighbouring countries - Afghanistan, Bhutan, Bangladesh, Maldives, Mauritius, Nepal and Sri Lanka. There are further requests from Bangladesh, Myanmar, Qatar and Bhutan for clinical trials in their countries. 
Meanwhile, India's COVID-19 caseload surpassed the 80-lakh mark on Thursday with 49,881 new cases. The recoveries surged to 73.15 lakh pushing the national recovery rate to 90.99 per cent, the Union Health Ministry data showed.
The total coronavirus cases mounted to 80,40,203 and the death toll climbed to 1,20,527 with the novel coronavirus virus claiming 517 lives in a span of 24 hours in the country, the data updated at 8 am showed. The COVID-19 case fatality rate has further declined to 1.49 per cent. There are 603687 active cases of coronavirus infection in the country which comprises 7.5 per cent of the total caseload, the data stated.
With the slowing down of cases in India, the prime minister asked the citizens to "strengthen resolve" instead of celebrating this phase. "I believe we should use this phase of slowing down of cases not to celebrate, but further strengthen our resolve, our behaviour and our systems. One special insight and understanding that came early to us was that the agriculture sector is one where the rule of social distancing can be more naturally maintained without compromising on productivity. So, we allowed agriculture activities almost from the very start. And we all see the results today with this sector doing exceptionally well despite so many months of disruption," he said. 
During his expansive interview, Modi said experts have been advocating the reforms for a long time. Even political parties have been asking for votes in the name of these reforms, he said. "Everyone desired that these reforms should happen. The issue is that the opposition parties do not wish that credit. It was often jokingly said that India had more labour laws than labour in formal sector. Labour laws often helped everyone except the labour. Holistic growth cannot happen until India's workforce gets the benefits of formalisation. The reforms we gave done will also signal to the world that this is a new India which believes in markets and market forces," Modi told ET.
The prime minister continued to remind people that "we are still not over with the pandemic." But, he said, India's economy has shown a remarkable capability to bounce back, largely because of the resilience of our people. "This is something which is not captured in numbers. The shop-owner, the trader, the person running a MSME, the person working on factory floor, the entrepreneur, all these are the heroes responsible for the strong market sentiment and revival of the economy," Modi said in praise. 
He recalled how a new world order was formed after World War 2. "Something similar will happen post COVID-19," he said. Modi said India will ride the bus of manufacturing and integrating in global supply chains. "We have specific advantages in the form of democracy, demography and demand. When India becomes Aatmanirbhar in a certain field, it always helps the world. If someone doesn't understand the ethos and spirit of India, they won't understand this concept. Confusion among experts is not necessarily a contradiction in our approach," he said.