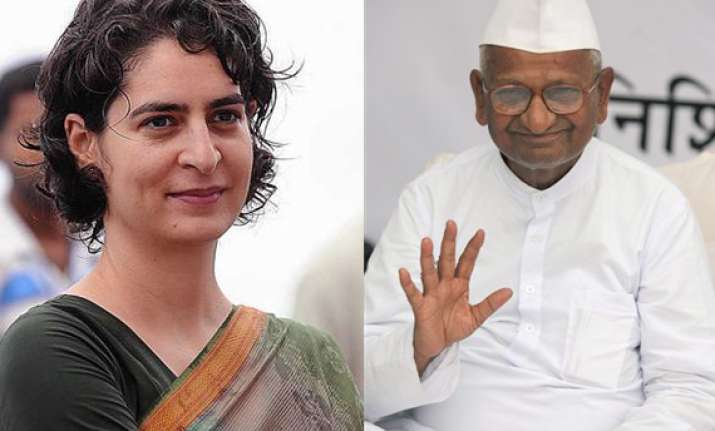 Amethi, Feb 3 : Congress president Sonia Gandhi's  daughter Priyanka Vadra  today said, the people of Uttar Pradesh will give the reply  to the so-called movement against corruption. 

While hitting the campaign trail in  her brother's Amethi constituency, Priyanka was asked about Anna Hazare and his impact on the UP elections,. She replied :  "ask the people... people will give a reply".

Priyanka said she was confident that the "hard work of Rahul Gandhi would pay off" in these elections, and added that the frustration of chief minister Mayawati has begun to show. 

"Anarchy, corruption and opportunism are the biggest enemies of the people of Uttar Pradesh, not of Rahul Gandhi and they should rise up to change them (in these elections), Priyanka said when asked as to who is the main enemy of her party, Mayawati or Mulayam Singh Yadav. 

She said people are now fed up and the reality is now dawning that this kind of politics is not working. Priyanka asked the voters to realise the strength of their vote and exercise their franchise for a change in the state where politics over the last 22 years has become totally "religion and caste-based".

"Election is the time when leaders come for electioneering of all kinds...I also come in your midst but who has the wisdom to recognise the reality of their candidates and the political parties...you...and take this into account when you go out to vote", Priyanka said at a public meeting in Balbhadrapur area of her brother Rahul Gandhi's parliamentary constituency here.

"Times have come when the people are not getting their rights in their areas .. politics has become bad and become opportunistic and moves ahead only because of division of your vote", she said adding people and not leaders should be standing on the dais.

Stressing that it is wrong that people beg before their leaders, she said that in the past 22 years it has been caste and religion-based politics in UP which has been dominating at the cost of development.

Taking a stand similar to her brother, Priyanka said that people from here go out of the state to Maharashtra and Kerala to work as they are developed and now it is time to bring a change here.

Endearingly terming her brother Rahul as "stubborn", Priyanka said that when he had set out to campaign in the last assembly elections she had asked why are you working so hard as the verdict was not known, he replied that his aim was not the verdict of election but was to change the state which was lagging behind.

She said the time has come to bring this change and it was not the prestige of her family nor of the Congress candidates but of the future of their families and their children.
"If Congress is strengthened and its government is formed in UP, it would develop", she said.

She said that situation has come to such a pass when parties have to introduce their candidates and specifically mention that they have not committed crimes like murder, not snatched the land of people.Priyanka would stay in the area for five days.

Priyanka today said she would limit campaigning to the family pocket boroughs of Amethi and Rae Bareli.

"I have been asked to look after 10 constituencies, five in Amethi and five in Rae Bareli and I am going to do that...I have not been told what I should do but would probably stay here", she told reporters in an informal chat on the first day of her five-day election tour.

To questions on the advertisement blitzkrieg and whether it would work in these elections she said "people of Uttar Pradesh have their wisdom and experience of a particular type of politics and government in 22 years. I am sure they have a lot of wisdom to understand things, far better than you and me".

When asked to rate the government she said that it is for the people to do so.