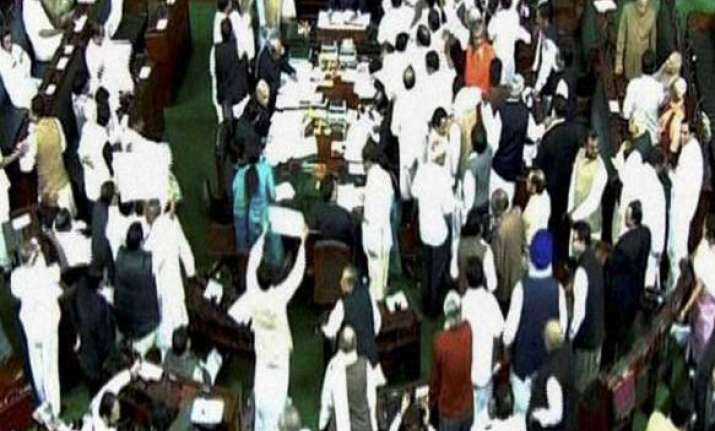 New Delhi, Aug 8 : Parliament was adjourned for yhe day today following uproar by Opposition members demanding resignation of delhi chief minsiter Sheila Dikshit in the CWG scam. 

As the Lok Sabha met for the day, BJP members trooped into the well of the house demanding Diskhit's resignation and suspension of question hour. BJP leader Yashwant Sinha has given notice of privilege motion against Sports Minister Ajay Maken for making remarks about CWG report relating to CWG scam.

On the other hand, Samajwadi Party members trooped into the well raising slogans against the Mayawati government and waving newspaper reports on CAG findings.

With Speaker Meira Kumar taking up the Question Hour, the opposition members created a ruckus making it impossible for others to ask supplementary questions.

Meira Kumar continued with the Question Hour as members of the BJP, Shiv Sena and SP raised slogans in the well.BSP members were seen shouting slogans and countering the SP member.

The Speaker told BJP member Varun Gandhi to ask a supplementary.As Gandhi stood up to ask his question, BJP member Bijoya Chakraborty signalled him against doing so.

As the ruckus continued, the Speaker adjourned the proceedings till noon.Similar scenes were witnessed in the Rajya Sabha where BJP members trooped into the well soon after it met for the day.Both the houses reassembled in the noon, and as the ruckus continued, the presiding officers of both houses adjourned the houses till Tuesday.