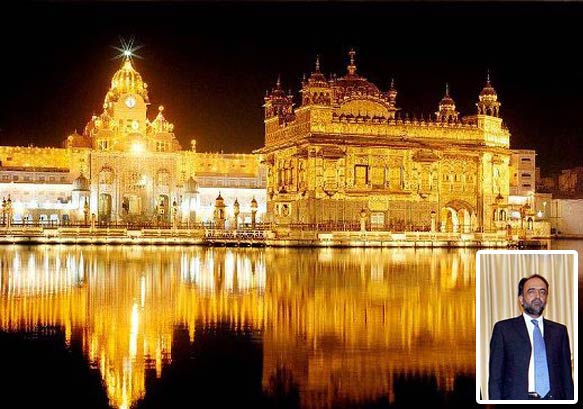 Amritsar, Mar 27: Pakistan Interior Secretary Chaudhary Qamar Zaman today visited the Golden Temple here responding to a "divine call" and said he prayed for the betterment of India-Pakistan relations.
Zaman, who crossed into India through the Attari-Wagah border to attend the two-day India-Pakistan Home Secretary-level talks beginning in Delhi tomorrow, visited the holiest Sikh shrine when his flight from Amritsar to the national capital got delayed.
"It was a very unexpected opportunity we got because of the delay of the flight and that was something... 'jo hum kehte bulawa aaya tha...' (what we say a divine call)," he said on reaching the Indira Gandhi International Airport in Delhi.
The Pakistan Interior Secretary said he prayed for better relations between India and Pakistan.
"Hum wahan behtarin taluqat ke liye dua mangey (I prayed for better ties)," Zaman, who wore a blue head gear while visiting the 16th century temple, said. He was accompanied by other Pakistani delegation members.
He told reporters here, "Pakistan Government would not allow anybody to take forcible possession of land belonging to Gurdwaras in Lahore."
He also said land belonging to Sikh religious places will not be allowed to be sold in his country.
Zaman was responding to a question on a controversy over construction of a plaza on a land belonging to 400-year-old Deewan Khana Gurudwara in Lahore.
On his visit to the temple, he said, "There was no schedule to go anywhere in India after reaching here, since I had to rush to Delhi. I am in India exclusively to attend the two-day meeting with my Indian counterpart G K Pillai.
"But, I don't know, how a miracle happened and the plan which was scheduled to take me to Delhi got late by half-an-hour and destiny brought me to the Golden Temple."
Zaman said, "My forefathers including my grandfather often told me about the spiritual significance of the Golden Temple and talked regularly about this spiritual place, which had created a strong desire in the deepest core of my heart to have a glimpse of this pious place and today I feel my spiritual mission has been accomplished."
Talking about the World Cup Cricket, he said, "Cricket fever is prevailing on both sides and people of India and Pakistan always love to watch a match between the two countries."