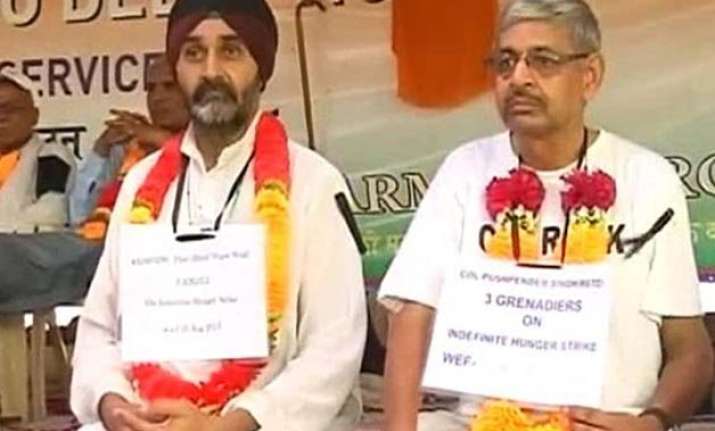 New Delhi: Stepping up agitation on 'One Rank One Pension', a fast-unto-death was launched by two of the protesting ex-servicemen at Jantar Mantar here demanding early implementation of the long-pending scheme.
"Col Pushpender Singh (Retd) and Haviladar Major Singh rpt Major Singh (Retd) have undertaken fast unto death from today," Col Anil Kaul (Retd), media advisor to the United Front of Ex-Servicemen Movement, said as the agitation at Jantar Mantar here entered the 64th day today.
Also, ten former service chiefs of the three services have written to Prime Minister Narendra Modi demanding implementation of OROP.
They regretted that the Prime Minister had not announced the implementation of OROP in his Independence Day address from the ramparts of the Red Fort.
They have also written against the police action on the protesting veterans on the eve of Independence Day during a drive to clear the area of protesters.
"We unequivocally condemn the action by the Police and urge the Government to investigate and take immediate action. This indiscretion on the part of the Police has seriously impacted the pride and morale of all ranks of the three Services and the Veterans," the former chiefs said.
"These veterans are the same soldiers, who have displayed unflinching loyalty towards the Constitution and the Nation during their service and still remain motivated to die for a noble cause.  Unfortunately their dignity and pride today stand scarred and is a cause for serious concern," they said.
On Sunday, Defence Minister Manohar Parrikar had asked the veterans for four to five days more for a final resolution.
The OROP will benefit 25 lakh ex-servicemen. It is expected to cost the government around Rs 8,500 crore.
Close to 22 lakh ex-servicemen and over six lakh war widows stand to be immediate beneficiaries of the scheme, which envisages a uniform pension for the defence personnel who retire in the same rank with the same length of service, irrespective of their date of retirement.