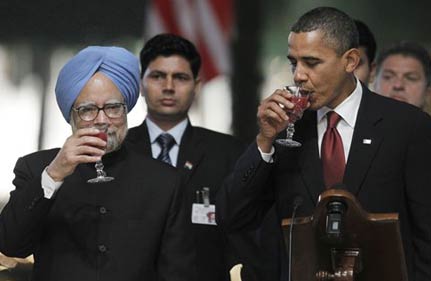 New Delhi, Nov 9 (PTI) India today said President Barack Obama's endorsement of its quest for permanent seat in UN Security Council is an "explicit political" statement of "unequivocal" support, notwithstanding his advice on Iran and Myanmar.
Welcoming US decision to lift the ban on export controls relating to dual-use items, New Delhi said removal of Indian entities like ISRO, DRDO and BDL will pave the way for "unimpeded flow" of high-technology from that country.
Playing down Obama's remarks that increased power comes with increased responsibility and India should not shy away from taking hard position against issues like human rights violation in Myanmar, sources said India and the US are not in a bargaining game and there was no price to be paid for being on the high table.
India does not need to be so prickly as it is all about friendship and these are terms of engagement, sources said, adding in friendship one should be able to speak frankly one's mind. They also noted that in diplomacy, everything is not always black and white as there are shades of grey in between.
After US' endorsement, the sources said, the process of discussions on the UN reforms will gather momentum and will soon start. While admitting that Obama's statement was "symbolic", the sources said it was "substantive" also.
Referring to Pakistan's critical reaction on UNSC issue that the US should have taken a decision on moral grounds and not for temporary expediency, the sources said India dose not need lectures on morality from Islamabad.
On Myanmar, sources said Indian position is propelled by the national and geopolitical interest but maintained that it has spoken out on issues like human rights abuse in public and in discussions with leadership of the military government. They described it as a "complex issue".
India has a along border of 1600 KM with Myanmar and has security problems of insurgency in the north-east which it has to deal with. Another angle to this is "big neighbour to our north" wants to be an active player in Myanmar.
Myanmar is not a problem which is on the dark side of the moon but a reality existing on the Indian borders which has to be dealt with.
On Iran, the sources pointed out India had voted with America in the UN and its position was more or similar to many other members of IAEA.
They recalled that Prime Minister Manmohan Singh had two years ago made it clear that while Iran has a right to peaceful use of civil nuclear power, it also had international obligations under IAEA. He had also asserted that India does not want another nuclear power in its neighbourhood.