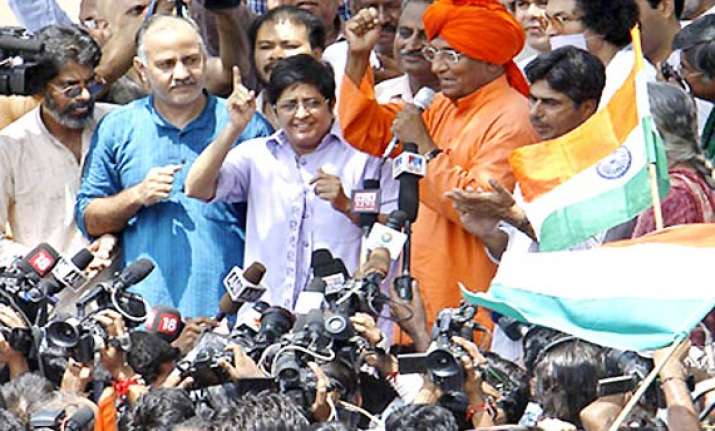 New Delhi, Aug 20: The government is yet to take an initiative to start a dialogue with team Anna over the Jan Lokpal Bill, Anna's aides Arvind Kejriwal, Kiran Bedi and Prashant Bhushan said today.
 
Addressing a press conference from the podium at Ramlila Maidan, Kejriwal said, Anna's fast has been going on for the last five days and there has been no move yet from the government side.
 
Kiran Bedi added to say that the government is closely watching whether more supporters would gather at Ramlila Maidan or not. "Each of you bring at least 10 to 100 supporters each to show your strength", she exhorted the supporters.
 
Medanta Medicity chief Naresh Trehan announced after a second medical checkup of Anna  that all the vital parameters including blood pressure, heartbeat and blood tests,  were stable. "We are keeping a close tab on Anna's health. It's a good sign that even after five days of fasting Anna is okay and there is no danger sign yet", said Trehan.
 
Anna interjected during the press conference to say that those who allege that RSS was behind the protests should be sent to mental hospitals.
 
Arvind Kejriwal rejected the Parliamentary Standing Committee, saying that not a single recommendation of Standing Committees of Parliament has been accepted  since the last several years. "it is a waste of time", he said.
 
Kiran Bedi challenged the Standing Committee to publish both the salient points of Lokpal and Jan Lokpal Bills so that the people could make up their mind.
 
Prashant Bhushan challenged the government to carry out a nationwide referendum on Jan Lokpal Bill if it thought that the civil society activists were resorting to "dictatorial action".
 
Kejriwal pointed out that the Parliamentary Standing Committee had Lalu Prasad and Amar Singh as members. "They are there because of their experience and are going to give you a good bill", he remarked.
 
On NGO activist Aruna Roy's third draft, Prashant Bhushan admitted there were differences between Team Anna and Aruna Roy. While Jan Lokpal Bill seeks to bring all goernment employees from top to bottom under its ambit, Arun wanted a separate agency to deal with government employees below Class I, he said.
 
But then, since most of the corruption cases related from top to bottom, it would be difficult for the Jan Lokpal to tackle some and leave the rest for a different agency, Bhushan said.
 
Kejriwal said, government was trying to use the Standing Committee as a "shield". Let the government say how many recommendations of Standing Committees it has accepted in the last several years, he said.
 
On political parties support, Kejriwal said, the Left parties have openly supported the Jan Lokpal Bill, but the BJP was yet to take its stand.