Follow us on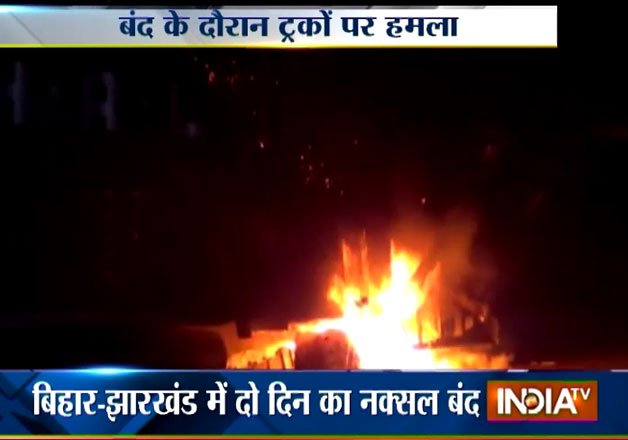 Gaya: Maoists set at least 32 vehicles on fire in Amas in Gaya district of Bihar to enforce a two-day shutdown beginning today.
"A group of armed Maoists forcibly stopped vehicles on the busy Grand Trunk road in Gaya and torched them post midnight on Sunday to create panic," Gaya Senior Superintendent of Police Manu Maharaj said.
Around two dozen trucks were among the vehicles set on fire. The Maoists are also protesting security forces operation against them, police said, adding that traffic on GT Road has been affected.
The drivers of the torched vehicles told police officials that armed Maoists asked them to get away from the vehicles before setting them on fire.
Taking serious note of the attack, police headquarters in Patna have directed the district police to intensify combing operations against Maoists.
Additional security forces have rushed to Gaya, considered Maoist-affected area as it shares border with neighbouring Jharkhand, a police official said.
Naxals announced a two-day shut down to protest against the killing of a woman cadre about a week ago in an encounter with security officials.
On May 17, a woman Naxal Sarita Ganjhu was killed and eight others were arrested by the security forces in the jungle of Barachati of Gaya.
Acting on a tip off that some Maoists had gathered near Tiletand locality to collect Rs 2 crore from a construction company, four companies of CRPF's COBRA battalion rushed there and killed a woman Maoist.
The security forces also arrested eight ultras, including CPI(Maoist)'s Magadh Range Secretary Upendra Baitha alias Sanjeevan.