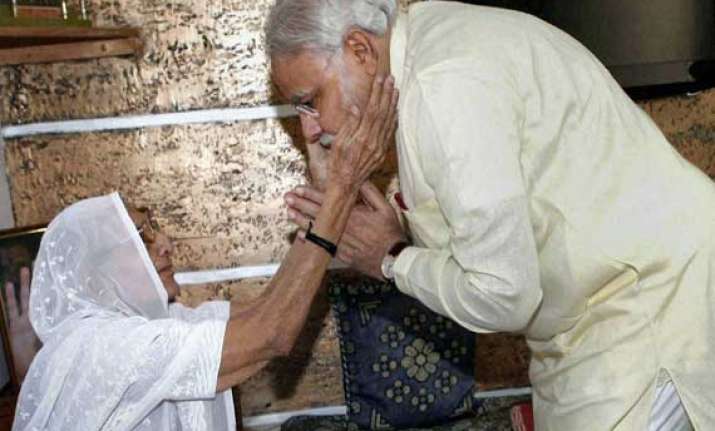 New Delhi: Prime Minister Narendra Modi and his Pakistani counterpart Nawaz Sharif talked about their mothers when they met briefly after the former was sworn in at a grand ceremony at the Rashtrapati Bhavan yesterday.
Sharif, whose visit was clouded in speculations over his presence for the event, walked down the red carpet of Rashtrapati Bhawan forecourt on Monday evening, marking it to be the first such event between the two countries.
Modi took on to twitter to share his exchange of thoughts with Sharif during his swearing-in today at Rashtrapati Bhawan.
"Nawaz Sharif ji told me that he stays in Islamabad but goes to meet his mother once in a week. This time when he was eating with his mother he saw visuals on TV of my mother offering me sweets," Modi tweeted.
In another tweet, he said, "The visuals touched both Nawaz Sharif ji & his mother. He told me that after seeing the visuals his mother got very emotional."
After the ceremony, Sharif, who had called it a "great moment and great opportunity", was the first to shake hands with the new Prime Minister.
harif will meet the new Prime Minister on Tuesday as part of a series of bilateral meetings with all eight world leaders.
Indian officials see the meeting, scheduled for around noon, as an ice-breaker but the Pakistani leader described it as a chance to reach out to each other.