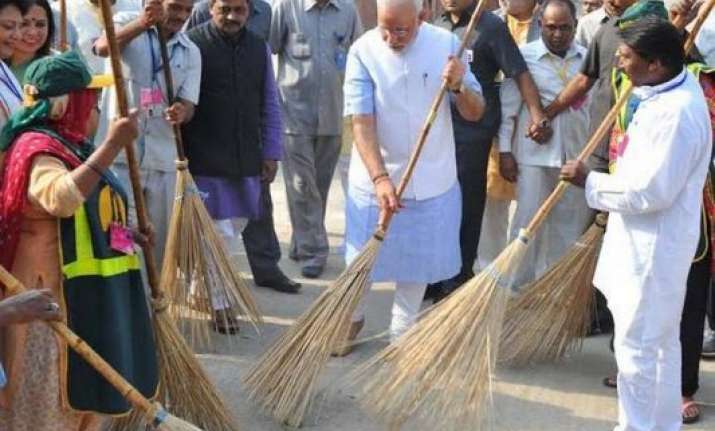 New Delhi: Two days after launching the 'Swachh Bharat' campaign, Prime Minister Narendra Modi today said the momentum of "enthusiasm" generated by the drive should be kept going for the success of the mission.  
He also expressed happiness over former Prime Minister H D Deve Gowda joining the ambitious campaign.  "I am very happy to see the enthusiasm for Swachh Bharat Mission. We must keep this momentum going for the success of the Mission," Modi said a tweet.
"Am glad that former PM Shri HD Deve Gowda ji joined Swachh Bharat Mission. A very strong gesture," he added in another tweet.
Soon after Modi's call for 'Swachh Bharat' campaign on Thursday, Deve Gowda took a broom and swept the Hassan railway station in in Karnataka.
Modi himself wielded the broom on October 2, the birth anniversary of Mahatma Gandhi, as he launched the 'Clean India' campaign, joined by chief ministers, lawmakers, prominent personalities from various fields along with lakhs of countrymen in a drive that is expected to cost nearly Rs 2 lakh crore.
Asserting that "Swachh Bharat" mission is "beyond politics" and inspired by "patriotism", he had invoked Mahatma Gandhi's vision of a "clean and developed" India as he formally kicked off the five-year-long campaign, which will cover 4,041 statutory towns, on the 145th birth anniversary of the Father of the Nation.