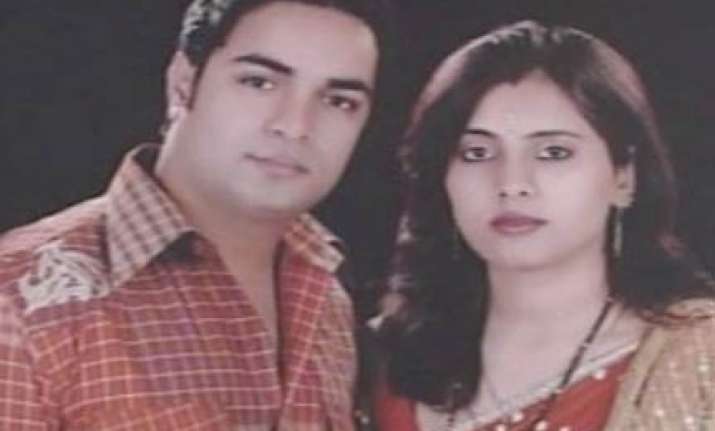 New Delhi: Days after the triple murder in Ashok Vihar was reported, Monica's mother, Bobby, finally broke her silence.  After the initial few moments of hesitation, she started to talk about her family. Appearing stoic, she claimed that her eldest son, Ankit Gujjar — who is alleged to have shot his sister Monica and her husband, Kuldeep Singh — was innocent, reports Times of India.
Monica's mother showed little emotion during the conversation, except when she flinched while recounting how her younger son, barely 14 years old, was being 'detained' by investigators.
 ''My daughter had expressed a desire to return to Ashok Vihar. She spoke to me over the phone every day and I knew she needed some medical attention. This was why she returned from Janakpuri on March 25,'' said Bobby. Flanked by relatives, she went on listing the ''dowry gifts'' she had given Monica ''when she set up her home'' at Ashok Vihar, barely a kilometre from Wazirpur village, Monica's parental home.
 ''We had gifted her 17 tolas of gold, expensive crockery, bedsheets, mobile phones and even helped Kuldeep to procure the Esteem car...,'' she said, claiming nobody would have ''provided'' so much dowry even in case of a normal marriage.
She was, however, elusive when asked why so many ''gifts'' became necessary years after the marriage. ''She was setting up her own home; she was not staying with relatives anymore (referring to the couple's four-year stay with Kuldeep's maternal uncle at Janakpuri),'' she said.
Asked about Ankit's ''equation'' with his only sister, she recounted how he would often ''shower'' Monica with presents. While Bobby could not remember the exact day when Ankit or she last visited Monica at her residence, she had a vivid memory of the day of the murder.
''My younger son, Shanki, and his friend went to visit Monica. They called up saying Monica was bleeding profusely. Ankit set out for the hospital after he got the news around 6.30pm. He returned about an hour later but fled after Kuldeep's family and police began projecting him as a murderer,'' she said.
She pointed that no one had questioned why Kuldeep's cousin lent his Santro car to Ankit and Mandeep even as he was allegedly beaten up by them earlier. ''My son is being made a scapegoat,'' she told TOI. Bobby said her son has not contacted her since.