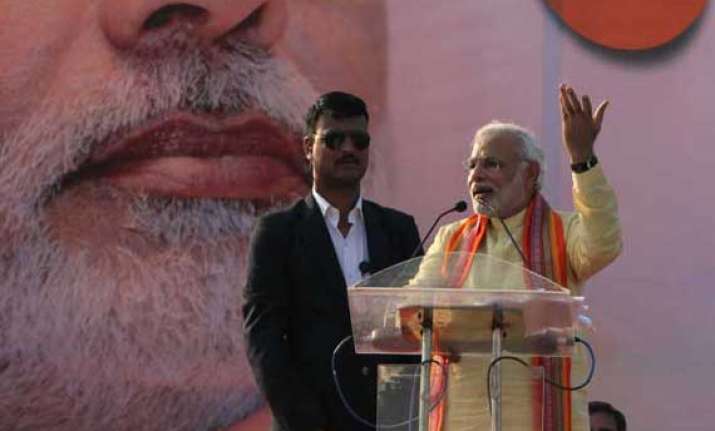 Siliguri (West Bengal): Accusing the Mamata Banerjee led Trinamool Congress government of competing in vote bank politics, BJP's prime ministerial candidate Narendra Modi Thursday said the West Bengal government has betrayed the people's faith.
Modi also ridiculed Banerjee, saying the "parivartan" (change) brought by the Trinamool was fake. He was addressing a rally at Matigara in Siliguri city.
"When the wave of of parivartan came in Bengal, I thought that good days will arrive in the state. But just like the Left ruined Bengal, has there been any change during the Trinamool governance for more than two years," Modi asked.
"This is because, after coming to power, they have slipped into the politics of vote banks. This is the biggest betrayal of the people," he said.
Modi said a powerful government - a "big masterji" - at the centre was the need of the hour.
"If you want to bring it (the Trinamool government) on the right path, you have to put a big masterji in Delhi. If there is a strong, honest and pro-development government at the Centre, then these people, who go astray, will be forced to walk on the right path," said Modi.
Modi said: "The West Bengal chief minister will criticise the Congress, Left, but until she criticises Modi 100 times everyday, she cannot digest her food. The name of this game is vote bank politics."
He also raised the issue of the Saradha chit fund scam and the Siliguri-Jalpaiguri Development Authority scam, which came to light during the Trinamool rule.
Blaming the Centre and the state government for destroying the tea industry in the state, Modi said the development of the region was possible through two Ts - tea and tourism.
"My first preference is tea, had it not been for tea, I would not have been here in front of you. Much like you, I am also a chaiwala," said Modi.
"We have seen the fake change, it's now time for the real change. I also want to tell the chief minister, the Communists and the Congress, the more you throw mud at us, the more lotuses would bloom in Bengal," said Modi urging people to vote for the BJP.