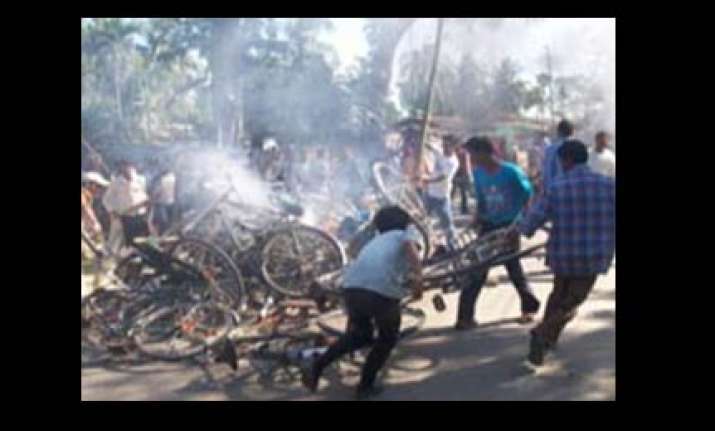 A 15-year-old boy was killed and four others were injured  on Monday when the owner of a tea estate allegedly fired at angry protesters who later set ablaze two garden factories and his residence, police said.  
Mridul Kumar Bhattacharjee, the owner of Rani Tea Estate, fired at locals and labourers who were protesting against him for allegedly beating a woman and tearing her clothes following an altercation over trespassing, they claimed.  
Prudi Murari, a class eight school student, died on the spot.  The irate mob then torched the residence of the garden owner, two of his factories, several vehicles and other property, officials said, adding that fire tenders were also prevented from entering the garden.  
Locals alleged that Bhattacharjee had created terror among locals for the last 15 years by physically abusing them, brandishing pistols, grabbing land and even polluting drinking water sources.  
Police said the whereabouts of the garden owner were not yet known, even as the agitated locals were demanding his arrest.  Two of the four injured were identified Suren Ram Bodo and Khasi Ram Bodo.The injured were admitted to the Gauhati Medical College and Hospital. PTI