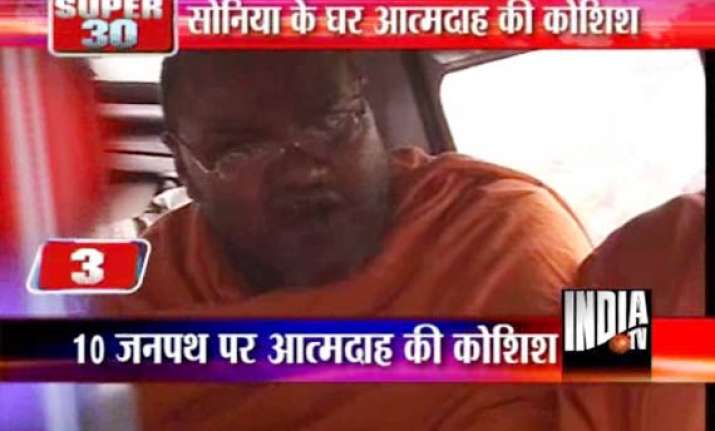 New Delhi, Jun 4 : Yati Narasinhamnand, describing himself as a mahant of Dasna temple, on Saturday tried to set fire to his robes outside 10, Janpath, the official residence of UPA chairperson Sonia Gandhi. 

As the man squatting on the grass lit a matchstick and tried to set his robes on fire, a Delhi Police Head constable swung to action and took Narasimhanand to the nearby police station for interrogation. He was later detained on charge of attempt to suicide.

Narasimhanand said, he was opposing the anti-communal riots bill approved by the National Advisory Council headed by the UPA chairperson. He described the bill as aimed against the majority community.

Prevention of Communal and Targeted Violence (Access to Justice and Reparations) Bill, 2011 has already been opposed by the BJP, which says that the bill assumes that the members of majority community cannot be victims of communal violence.

BJP leader Arun Jaitley has said the law is fraught with dangerous consequences as the legislation would go against the federal rights of the states and hold only the majority community guilty of hate propaganda and targeted violence.

He has also stated that this law makes only members of the majority community culpable.

On the other hand, Muslim intellectuals have welcomed the bill saying that it would make government authorities, especially the police, accountable, who, in the case of the Gujarat riots, had not been forthcoming to file FIRs.

"We are happy about this bill because people need to realise that there is no scope for fundamentalists, Muslim or Hindu, to fester such thoughts in today's society," said JS Bandukwala, an academician.

"Muslims have been demanding accountability on the part of the state government, and more so the police. The FIR, in fact, is only the first step. We want the cases to reach their final conclusion, and responsibility pinned on the accused," said Sultan Shahin, a Muslim writer.

Muslim intellectuals say that though such a bill may helpcontrol the violence spilling out onto the streets, a strong will is required on the part of both the communities to put national pride above communal issues.

"The bill is a certainly a positive step, but communalism has infiltrated our system, for which Muslim and Hindu politicians are to be blamed. Our leaders need to realise that religion should be kept within one's four walls," said Feroze Bakht Ahmed, the grand nephew of Maulana Azad.