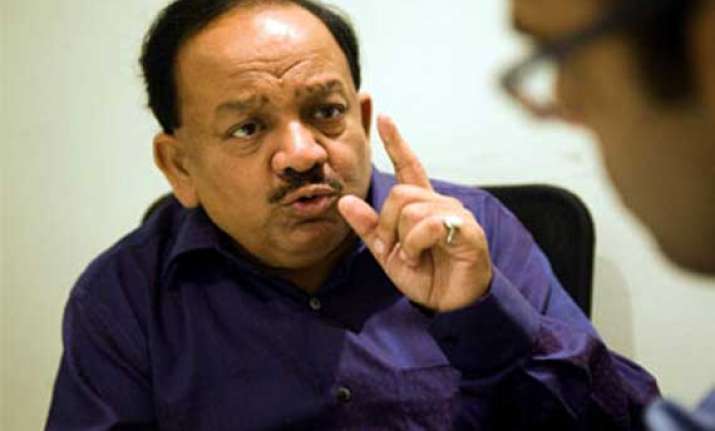 New Delhi: Union Health Minister Harsh Vardhan today asked all the states to take up malaria and dengue prevention measures on a war footing to check spread of the diseases in the coming monsoon months.  
Noting that dengue and malaria strikes with "sickening regularity" every year causing many deaths, he said, prevention was easy if the prevention protocol was implemented with commitment and monitored personally by the highest officials aggressively and pro-actively.  "Accountability must be fixed at all levels," he said in an official statement.
He was speaking at a meeting today to review the steps already taken in the National Capital Region (NCR) to prevent spread of the vector-brone diseases.
Compared to 353 cases of malaria in 2013, Delhi has already reported 11 by June 30 this year. while Uttar Pradesh had 48,346 and 6,473 respectively for 2013 and up to June-end this year.
There have been nine cases of dengue in Delhi, 89 in Rajasthan and three in Haryana so far, but no deaths reported due to the disease so far this year.
"Let us make a new beginning. Let us not be complacent if the number of victims this year is less than last year's. We must aim for zero incidence within two to three years," Vardhan said.
Expressing necessity of bringing the states on board to give effect to his plan to eradicate preventable diseases, he said he was keen to integrate into a strategy the success stories of states like Tamil Nadu and Karnataka where the incidence of vector-borne diseases has registered a big fall.
He said he would also send central health officials to all
the states to take stock of the situation on the health front through meetings with their counterparts.
"There cannot be a 'one-size-fits-all' policy. Each region is different and needs its unique solution," he said.
The meeting was attended by Haryana Health Minister Narendra Singh, Rajasthan Health Minister Rajendra Singh Rathore, Delhi's Lieutenant-Governor Najeeb Jung, the Mayors of North and East Delhi, and senior officials of the health ministry and state governments.