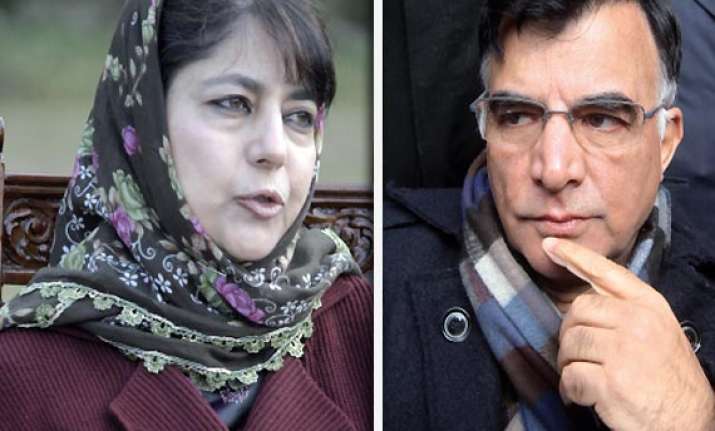 Anantnag (Kashmir): From those with law and medical degrees to one middle school pass out, from crorepatis to one with less than Rs 1,000 in his bank account -- it is a battle of contrasts in this Lok Sabha seat where the PDP's Mehbooba Mufti is challenging sitting MP from the ruling NC, Mirza Mehboob Beg.
Three medical practitioners, two law graduates, two matriculates and a middle school pass out are among the 12 contestants in the fray from this seat in south Kashmir.
According to the affidavits filed by the candidates along with their nomination papers for the April 24 electoral battle here, nine contestants have university degrees.
While Beg, AAP candidate Tanvir Maqbool Dar and National Panthers Party aspirant Syed Abid Ahmad Shah have degrees in medicine, PDP chief Mehbooba and BSP candidate Mohd Sharief are law graduates.
And, whereas BJP candidate Mushtaq Ahmad Malik and Samajwadi Party candidate Ghulam Nabi Shah have not studied beyond class X, All J-K Republican Party (AJKRP) contestant Mohammad Yaqoob Rather did not attend high school.
The richest candidate in the battle arena is the newly-launched Awami Ittehad Party (AIP)'s Tanveer Hussain. Holding a bachelor's degree in Information Technology, Hussain owns property worth Rs 2.32 crore.
There are three other crorepati candidates in the fray here.
AAP candidate Dar owns property worth Rs 2.05 crore along with his wife while Indian Peoples Conference candidate Abdul Ahad Mir owns assets worth Rs 1.78 crore. AJKRP's Rather has property valued at Rs 1.26 crore.