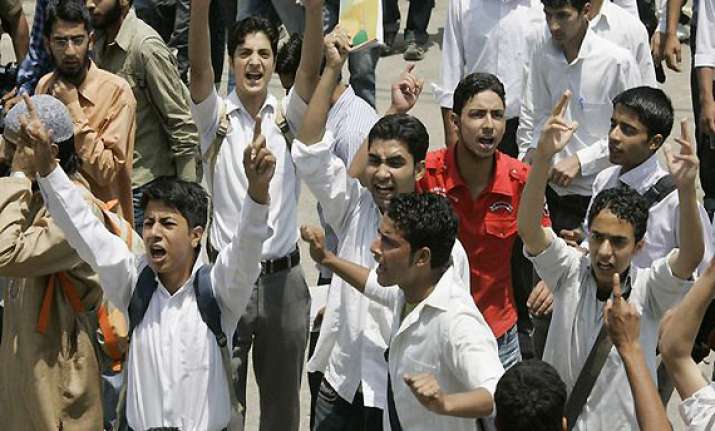 Srinagar, Mar 27: Students at University of Kashmir here today protested the assault on hardline Hurriyat Chairman Syed Ali Shah Geelani in New Delhi by members of two right wing groups.
The students held a sit-in at the University, carried banners and shouted slogans in favour of Geelani.  Students said that they condemn the "coward, shameful and inhuman" act by the "goons" as they expressed solidarity with the Hurriyat leader.
Geelani, who is in New Delhi, addressed the students via a phone call thanking them for expressing their sentiments against the "murderous attack" on him by "unscrupulous elements".
"Yesterday during a programme, unscrupulous elements armed with sticks made a murderous assault on me. Since this news went out, I have been receiving continuous calls from Kashmir, Jammu, Azad Kashmir (POK) and Pakistan," Geelani said during his telephonic address to the students.  
Activists of right-wing Bhagat Singh Kranti Sena (BSKS) and Akhil Bhartiya Vidyarthi Parishad (ABVP) had assaulted 81-year-old Geelani yesterday when he was walking towards a seminar hall in north Delhi.  
The assault drew widespread condemnation in Kashmir with Jammu and Kashmir Chief Minister Omar Abdullah saying "these Bhagat Singh Kranti Sena (BSKS) and ABVP goons are bloody idiots."