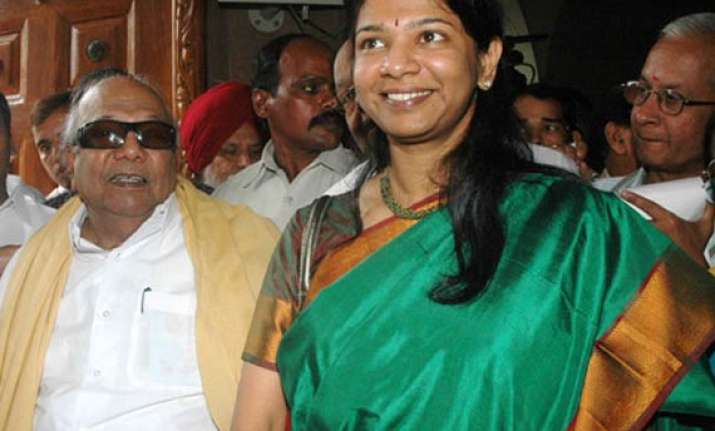 Chennai, Dec 3 : After spending 193 days in Delhi's Tihar Jail following her arrest in the 2G case, DMK MP Kanimozhi returned here today to a rousing reception by the party cadres.

Kanimozhi, accompanied by husband Aravindan and son Aditya, was received at the airport by her 87-year old father and DMK President M Karunanidhi and step brother M K Stalin among others.

Kanimozhi's mother Rajathi Ammal, Karunanidhi's wife and Director of Kalaingar TV Dayalu Ammal, her daughter Selvi also welcomed her at the airport.

Hundreds of party cadres broke into celebrations beating drums and dancing as the DMK MP stepped out of the airport to join the family members after more than six months of incarceration.

They also carried placards hailing Kanimozhi as "Chennai Sangamame varuga varuga (welcome)", in a reference to the annual cultural show organised by her during Pongal festivities.

DMK party flags and banners with pictures of Kanimozhi and Karunanidhi were lined up along the road leading to the airport.

Kanimozhi, who was granted bail by the Delhi High Court, told reporters at Delhi airport before boarding the flight to Chennai that she would prove her innocence in the court and termed grant of bail to her as the "first step".