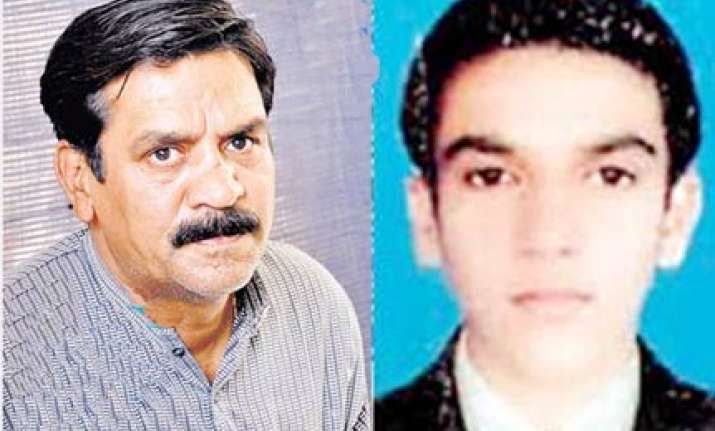 Rajkumar Soni's story is no different from Anupam Kher's reel-life portrayal of an elderly man in Saaransh — running from pillar to post to get his son's remains, says a report in DNA, Mumbai.
Frustrated and dejected, Kher, who played the role of retired teacher, finally gets the help of chief minister who turns out to be his student. However, a small-time businessman Soni had no one to help him.
In May last year, already shattered on hearing of his son Rahul's death, Soni was devastated when told by the police that they had already cremated his child.
However, the policemen immediately changed their stance when he asked for the remains of his son. "When I asked them for the address of the crematorium to collect the ashes; they said that the body was given to a private college for medical experiments," — Soni's voice choked as he narrated his traumatic experience to mediapersons in Jaipur on Monday.
He received the final blow when he approached the private medical college to claim the body. "They asked me to pay Rs16,000, which according to them, was the money spent on embalming the body," he said.
"My son's name was tattooed on his hand. He was a local. The police knew he had gone missing. Yet, they made no effort to find the relatives after he died. Within minutes of the post-mortem, they illegally handed over the body to a private college for experiments," he said.
Soni said the hospital handed over his son's body only after he promised them to pay the money after cremating his son. However, later the hospital authorities didn't have courage to go to him and ask for the money.
"I kept thinking that they (police) must have done the same thing to other people as well. And this enraged me so much that I decided to bring out the truth. I want them to be punished for their greed, which made them stoop so low as to trade in bodies," he said.
For the next nine months, Soni filed a series of applications to find out what the police had done with unidentified bodies. The replies revealed that at least 26 bodies had been given to hospitals by the police for conducting experiments.  
Bones taken out of a dead body sell at a premium in the grey market. The biggest buyers are medical students who keep them as osteology specimens for their studies.  
Each part of the human skeleton has a price. A segment of the vertebra comes at nearly Rs500. And the entire skeleton with the skull fetches not less than Rs25,000.
According to experts, students of osteology as a subject in Anatomy are the largest customers of bones that may have originated from these unclaimed bodies.  
In foreign countries, medical students use fibre or virtual model of the human skeleton and bone specimens but they are very expensive and medical students in India are still using real bone specimens.
A medical college needs around a dozen bodies for the anatomical studies every year but the demand for bone specimen is much higher including that in dental colleges.
"A medical student keeps bones and skeletons for the purpose of study. Earlier, most of these specimens used to come from Kolkata but now Jalandhar and Agra have also become major centres for supply of these bone specimens," a senior doctor with SMS Hospital said.  
Another medical expert said that there is a clear gap in the supply and demand of bone specimens in the country and chances are that the demand from medical students for bone specimens is met from the unclaimed bodies across the country.
"The procedure of procuring the bon­es from the bodies is not easy. Bodies ha­ve to be buried in the earth for decomposition for a few months and then they are cleaned up before being supplied in the market," a forensic expert said.
"Bone specimens are important part of our study and we borrow these from our seniors also. But, many students prefer to keep their own specimen and it is therefore, a huge market," a medical student told DNA on condition of anonymity. But, he said that students are not aware where these bones come from in the market.