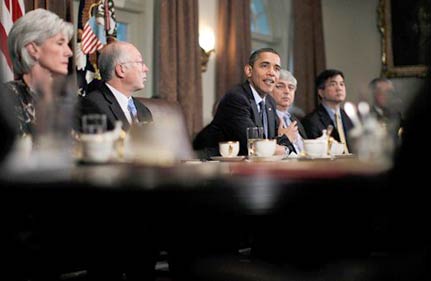 Mumbai, Nov 6 :  The US today sought to assuage the IT industry here, saying India had not been singled out on the issue of rise in visa fee, a move that raised the hackles of technology firms.
"Indian IT firms had not been singled out in this regard and countries like South Korea and Taiwan would also pay more for it," US Commerce Secretary Gary Locke told a private news channel.
The US government had decided to increase the visa fee to raise an additional USD 600 million to beef up security border security along its border with Mexico.
The US accounts for about 60 per cent of India's total USD 50 billion IT and IT enabled services exports.
The visa fee hike, termed as discriminatory by India, was followed by US state Ohio banning outsourcing of government IT projects, a step that further irked the Indian players. Both these moves coincide with a fragile recovery in the US economy coupled with high unemployment levels.
Indian IT industry's apex body Nasscom had said the US Border Security Bill has logical flaws and is discriminatory in nature.
Asked if other US states would follow Ohio's ban on outsourcing work to foreign companies, Locke said that India had been affected as it was not a signatory to the Government Procurement Agreement (GPA) under the WTO.
The visa fee hike, which came into effect from August this year, is expected to add USD 250 million to Indian IT sector's annual visa costs. The Visa fee was hiked by about USD 2000.
The impact had perhaps appeared disproportionate as a large number of visas for the professionals are applied for by India, Locke said.
The GPA is a pact that deals with the issues relating to government purchases.
President Barack Obama, who is on a three-day visit to India, in September had suggested that tax breaks could be ended for companies outsourcing work overseas.
The Indian IT industry, however, has denied the charges that it was the reason for job loss in the US. In fact, the industry claimed that it was the only sector that created jobs there and that job losses were in manufacturing, retail and other industries.
"...We in India are a part of the solution and not the problem (unemployment)," Nasscom President Som Mittal said. PTI