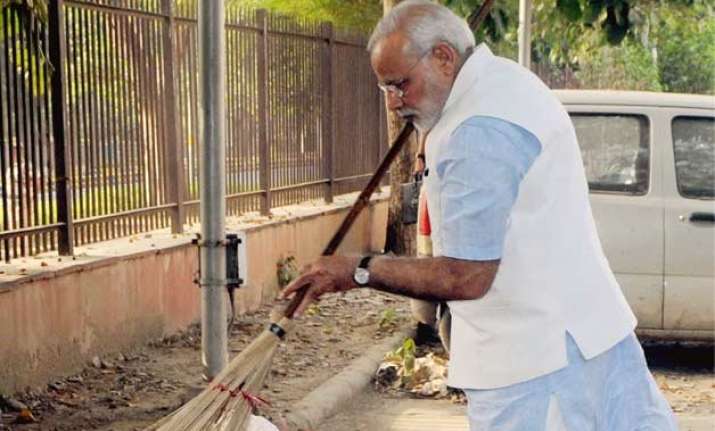 New Delhi: PM Narendra Modi's Swachh Bharat Abhiyan is embracing new heights of success.
Several Indian companies have jumped onto the Swachh Bharat bandwagon and donated over Rs 1,000 crore for the project.
Corporate houses like L&T, DLF, Vedanta, Bharti, TCS, Ambuja Cements, Toyota Kirloskar, Maruti, Tata Motors, Coca Cola, Dabur, Reciktt Benckiser, Aditya Birla Group, Adani, Biocon, Infosys, TVS and many others have joined the effort by committing budgets for projects linked to Swachh Bharat.
Experts are hopeful that a corporate push on this agenda might address the issues.
Apart from private firms, public sector companies are also involved into making significant investments in such projects.READ MORE
Most public sector companies like Coal India, ONGC, OIL, IOC and GAIL have earmarked funds for projects aligned with the idea of Swachch Bharat Abhiyan.
Though most of these projects are funded under Corporate Social responsibility (CSR) heads, there are also some that are partly funded through CSR or are designed as public private partnership.
Experts say the initiative serves a dual purpose for corporate. While it helps fulfill the 2% mandatory investment in CSR, it may also fetch brownie points from the government.
For instance, Tata Consultancy Services (TCS) and Bharti Foundation, an arm of Bharti Enterprises, have both committed Rs 100 crore each as part of their CSR initiatives to construct toilets in schools.
While TCS plans to finance hygienic sanitation facilities for girl students across 10,000 schools in the country, Bharti has adopted Ludhiana and is working with government to make the district open-defecation free.
As quoted by Times of India, DLF Foundation CEO Rjender Singh said, "Cleanliness is the responsibility of all of us, not just the government. DLF Foundation's contribution to Clean Haryana Campaign is an attempt to address the issue which is becoming a major challenge for the country".
Involvement of such big names in this cleanliness mission has given a new ray of hope to achieve the target.