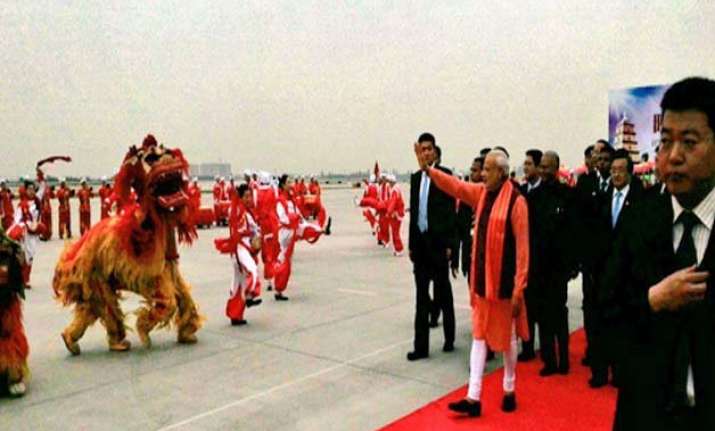 PM Narendra Modi to kick start three-nation visit
Prime Narendra Modi yesterday night left for three-nation visit to China, Mongolia and South Korea. He will visit Shiyan, Beijing and Sanghai during his stay in China from May 14 to May 16. Afterwards, Modi is scheduled to address the Mongolian parliament on May 17. He will end the three-nation tour in South Korea, where he will stay on 18 and 19 May.
Rajnath Singh to review anti-naxal operations in Nagpur
Nagpur: Union Home Minister Rajnath Singh will reach Nagpur today to undertake a review of the anti-naxal operations in the eastern Vidarbha region.
Singh will review anti-naxal operations in the eastern Vidarbha region while holding a meeting at the state guest house 'Ravi Bhawan' here in the afternoon, Ravindra Kadam, Inspector General of Police, Nagpur Range who is also Deputy IG anti-naxal operations (Gadchiroli) told.
Rahul Gandhi to undertake 15-km padyatra in Telangana
Hyderabad: Congress Vice-President Rahul Gandhi will embark on a two-day visit to Telangana beginning today which would include a 15-km 'padayatra' in Adilabad district.
Delhi court to hear complaint against Smriti Irani
New Delhi: A Delhi court will today hear a complaint filed against Union HRD Minister Smriti Irani for allegedly giving "false" information about her educational qualification in her affidavits filed with the Election Commission of India.
Govt calls stakeholder meeting on e-commerce FDI policy
New Delhi: The government will today hold a meeting of all the stakeholders including industry chambers CII and Ficci on foreign direct investment in e-commerce retailing.
CPI to hold rally against land ordinance
New Delhi: Communist Party of India (CPI) will today hold nationwide protests against the Narendra Modi-led NDA government's Land Acquisition Ordinance. A rally will be held at Parliament Street in Delhi while simultaneous protests are planned in other parts of the country, the party said in a statement.
Suresh Prabhu to lay foundation stone of MMLH at Kila Raipur
Chandigarh, Railways Minister Suresh Prabhu and Punjab Deputy Chief Minister Sukhbir Singh Badal would jointly lay the foundation stone of Multi Modal Logistics Hub (MMLH) at Kila Raipur village in Ludhiana district.
SC to pass verdict on plea for SIT probe against ex-CBI chief
New Delhi: The Supreme Court is likely to pronounce its verdict today on a plea filed by an NGO seeking a probe by a Special Investigating Team (SIT) against former CBI Director Ranjit Sinha for allegedly scuttling the probe into a coal block allocation scam case.
TAITRA to lead delegation of Taiwan suppliers to Mumbai
Mumbai: The Taiwan External Trade Development Council ( TAITRA) will today lead a delegation of 20 Taiwanese suppliers to Mumbai in order to further enhance the business partnership between the island and India.