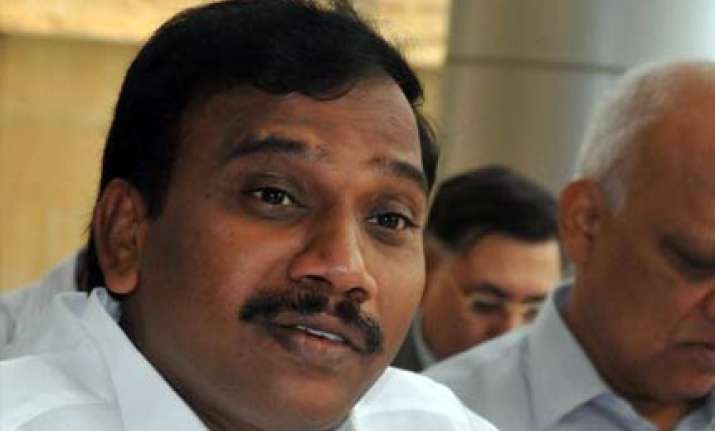 New Delhi, Nov 16: Striking a defiant note despite his indictment by the CAG over the 2G spectrum allocation, former Telecom Minister A Raja today said he has not done anything wrong and was ready for a probe.
"I want to reiterate that I went as per the telecom policy of 1999, as per recommendations of Telecom and Regulatory Authority of India and vision contemplated by the Government. If there have been any procedural lapses... let it be investigated... no problem at all", Raja told reporters here two days after he unceremoniously put in his papers.
On a day the Comptroller and Auditor General's report was tabled in Parliament, he said, "Let the law take its own course.
"I have already put forth my defence before Supreme Court. My conscience is clear. The stand of the government has been ventilated through the affidavit before the court. I cannot be separated from the government as long as I was in power. I can have no separate comment".
"What do you mean by guilt ?", he retorted to a question from a reporter.
After a series of meetings with his DMK party president M Karunanidhi, Raja met the Prime Minister at his residence two days ago and tendered his resignation.
Indicting A Raja, the CAG today said 2G spectrum allocation had caused revenue loss of Rs 1.76 lakh crore as the then Telecom Minister had ignored the advice of the Prime Minister besides those of ministries of Law and finance, giving "undue" benefits to new players that included Anil Ambani-led RCom.
The 77-page report of the CAG tabled in Parliament said due diligence was not followed and even the recommendations of the telecom regulator TRAI were "not followed in spirit".  PTI