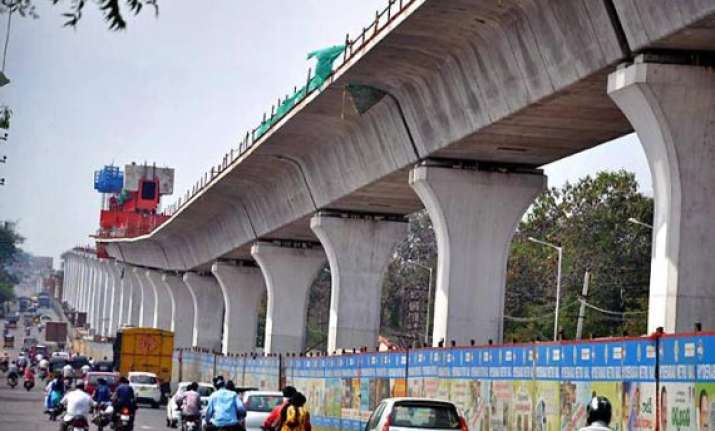 Hyderabad, Jul 19: The first eight-kilometre Nagole-Mettuguda section of the Hyderabad Metro Rail (HMR) will be opened for commuter traffic in March 2015, a senior official said yesterday.
The Nagole-Mettuguda section will be completed by the end of December 2014 and after the Commissioner of Railway Safety's approval, it will be opened for commuter traffic in March 2015 on the ocassion of Ugadi, HMR Managing Director N V S Reddy said at a review meeting here, according to an official release.
Work on the project seeking to decongest three dense corridors with a 72-km elevated rail is on in different parts of the city.
Municipal Administration and Urban Development (Principal Secretary) S K Joshi reviewed the progress of the Hyderabad Metro Rail project and MMTS Phase-II works at Metro Rail Bhavan.
Depot works at Uppal and Miyapur are also progressing at a brisk pace, with the progress being at 80 per cent and 40 per cent respectively, Reddy said.
A plan is also being prepared to create about 200 skywalks and quality public space at metro rail stations, with street furniture, bicycle stations, bicycle tracks, footpaths and other pedestrian facilities, as part of an urban redesign programme, he said.
Earlier, making a detailed presentation, NVS Reddy said that despite heavy rains, metro rail works are progressing well and that all necessary monsoon precautions have been taken to protect work sites from heavy rains, the release said.