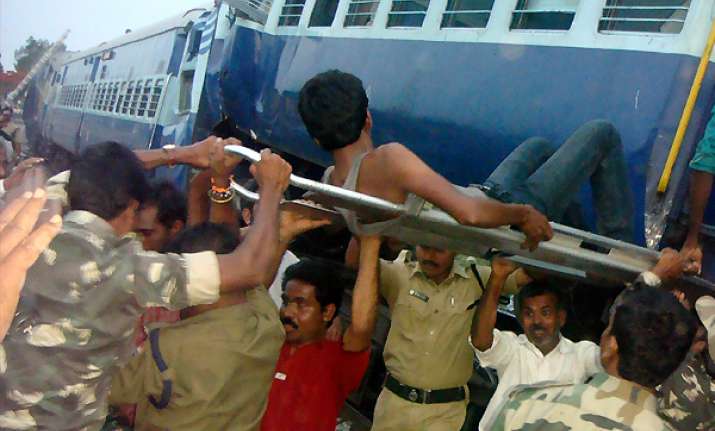 Penukonda (AP), May 22:
At least 25 passengers were killed, 16 of them charred, and 43 injured when the Bangalore-bound Hampi Express rammed into a stationary goods train after its driver apparently overshot the signal near the station here in the wee hours today.
The impact of the collision that took place at 3:15 AM was such that four bogies of the express train derailed and one of them caught fire near Penukonda station in Andhra Pradesh coming under Bangalore division of South Western Railway.
Shocked survivors said it was an unbearable and gory sight to see fellow passengers burning and screaming for help as they stood helpless due to the searing heat. The cries of burning passengers still rang in their ears, they said on arrival in Bangalore, about 150 km from here.  Most of the victims were labourers coming from Hubli and Hospet in Karnataka and were on their way to Bangalore.
"As of now, 25 people have died and 43 people are injured in the train tragedy. The injured have been shifted to different hospitals across Anantpur district," Railway Minister Mukul Roy, who rushed to the accident site, told reporters.
"Prima facie it seems that the driver of Hampi Express overshot the signal," Railway Spokesperson Anil Saxena said in Delhi.
Deputy Inspector General of police (Anantapur range) Charu Sinha said the injured have been admitted to nearby hospitals at Penukonda, Hindupur and Anantapur.
"Rescuers used metal cutters to get inside the bogies where passengers were stuck," Anantpur Superintendent of Police Shahnawaz Qasim said, adding fire fighters and railway officers helped police in rescue operations.
Roy said the Railway Safety Commissioner has been directed to conduct an enquiry and submit a report in 10 days. "I have ordered the Safety Commissioner to enquire and submit a report in 10 days. He has already arrived here to start the enquiry."
Police have registered a case against the express train driver and his assistant. Both are injured and have been hospitalised.
"It was simply unbearable and a gory sight to watch our fellow passengers burning in front of us, while we just stood helpless," said 30 year-old Ratnamma, a passenger on the ill-fated train, who arrived along with some others in Bangalore.
A Railway official said the engine and the first three coaches were the worst hit. The first bogey is the guard-cum-luggage-cum passenger coach, the second and third are general compartments.
Sridevi
Satyanarayana, a survivor who lost her father in the mishap, said her father was standing near the door and the next moment we didn't know where he fell. One of the coaches caught fire.
"After some time, we heard him moan from a mangled coach where he was trapped for nearly three hours. He asked for water and we fetched it, but we could not hear his groan anymore," a tearful Sridevi said.
Eight-year-old Sameer and his parents, who escaped unhurt, said they were sleeping when they woke up to a loud thud. "We peeped through the window and saw the train had rammed into the stationary goods train. We also saw one of the coaches catch fire."
After reaching the mishap site, Roy announced a compensation of Rs five lakh to the relatives of the deceased and Rs one lakh for the grievously injured.
An amount of Rs 25000 would be provided to those with minor injuries, Roy said, adding that the Railways would provide jobs to family members of the deceased.
"Employment will be offered to family members of the deceased within the framework of Railways," he said.  Roy said safety was the first priority and Railways have been exploring the possibility of introducing the Train Protection Warning System on electrified routes as in many European countries.
However, at this juncture it would be not fair on his part to say it would be introduced in one year's time, he said.
Karnataka Chief Minister Sadananda Gowda, who also rushed to the accident site, announced a compensation of Rs one lakh each for the families of those killed and Rs 25,000 for those injured.
South Western Railway has made arrangements to transport stranded passengers from Penukonda to Bangalore by buses and trains.
The damaged track has been restored, Railways said, adding that three trains were cancelled and five running late due to the mishap.