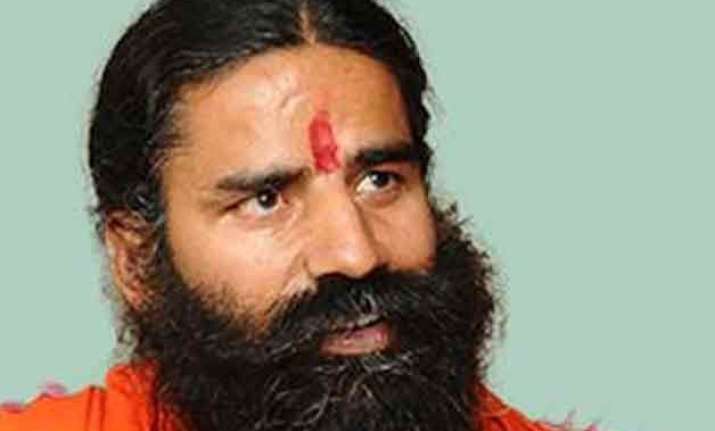 New Delhi: Yoga guru Ramdev's bid to take over government's Khadi sector has been softly yet firmly rejected by the Central government. The Central government has decided to take the onus of revamp upon itself instead of handling it over to baba's Haridwar-based Patanjali Yogpeeth which offered to take complete responsibility of research, quality, marketing, control and management of the sector.
Kalraj Mishra, the minister of Micro, Small and Medium Enterprises says that the government has decided to take baba's suggestion as a mere advice instead of associating khadi with other brand.
Further adding that Khadi is a symbol of swadeshi and can act as a big component in government's 'Make in India' initiative, the minister said that we invite suggestions but we have our system in place.
He told that Ramdev's suggestions were valid and the govt was  looking into them. However, Acharya Balkrishna, co-founder of Yogpeeth, confirmed Ramdev had proposed to "take khadi out of ventilator and give it a new life", but he refuted claims that the Yogpeeth intended to take over the sector. 
Baba Ramdev has reportedly proposed an extensive project of salvaging and revamping Khadi in a meeting with the officials of MSME recently.
However, MSME ministry signed an MoU with Rural Self Employment Training Institutes, an initiative of the rural development ministry, to start rural incubation centres across India that will provide training and employment in khadi-related industries. 
The government has also tied up with the National Institute of Design (NID) to make Khadi more contemporary and the latter will also organize a series of fashion shows in colleges in order to promote Khadi, starting with one in Delhi this week.
It is learnt that a Bengaluru-based social worker Veerendra Heggade will monitor this effort. Earlier, he had also launched a 'rural city plan' in Andhra Pradesh to provide opportunities to youth in the coastal areas who tend to migrate to cities for employment.
The government has also decided to improvise the charkha design by making it a pedalling machine to increase its productivity. 
Some media reports claim that a lot of discussion and internal thinking went into the ministry before rejecting the Yogpeeth's proposal.
One of the senior officials said, "We had a hearty discussion with Patanjali Yogpeeth members, but we think Khadi has an identity of its own."
The official further revealed that there is no shortage of funds with government to carry out the revamp.
Infact, the government has been mulling over a complete revamp of the khadi industry ever since it dissolved in July last year the Khadi and Village Industries Commission, which was formed in 1956 to promote the indigenous handmade products. 
Prime Minister Narendra Modi urged people to use Khadi products during his first 'Mann Ki Baat' radio address to the nation on October 3, 2014.
Around 12.5 million people are employed in the sector with an annual turnover from Khadi and Gramodyog estimated at Rs 17000-20000 crore.