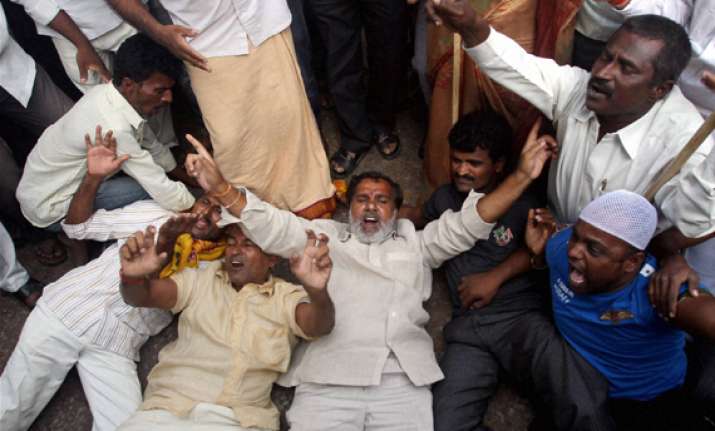 New Delhi/Hyderabad: The ministerial panel set up to work out modalities for formation of a separate Telangana held its first meeting Friday while Seemandhra started limping back to normalcy with electricity employees resuming work and teachers also calling off their strike though protests continued.
In Delhi, Telugu Desam Party (TDP) chief N. Chandrababu Naidu was Friday taken to the Ram Manohar Lohia Hospital from the venue of his fast at Andhra Bhavan even as hundreds of his supporters tried to stop police from moving him.
He seems to intend to continue his fast as he refused to accept a glucose drip.
The Group of Ministers (GoM) meeting in Delhi discussed a broad outline of issues on Andhra Pradesh's against the backdrop of widespread protests over the union cabinet's decision to carve out India's 29th state.
"The GoM discussed the approach and methodology to be adopted by it," said a home ministry statement.
Keeping in mind the large scale protests in Seemandhra (as the coastal Andhra and Rayalseema regions are jointly called), the GoM assured the state's people that all issues and concerns would be addressed with "fairness and objectivity".
It promised to take the "opinion of stake-holders on all important subjects while formulating its recommendations".
According to the home ministry statement, the GoM will look into various aspects like water sharing, finances, law and order, and formulating a legal framework.