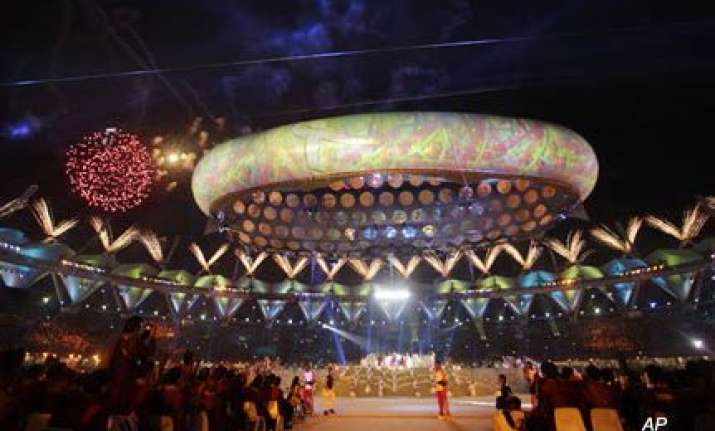 Rehearsals for the Games' grand finale are already on at the Jawaharlal Nehru Stadium. The closing ceremony on Thursday night will be dominated by pop, sufi and Bollywood music, reports Times of India.  
Pop, sufi and Bollywood singers will perform solos and duets one by one. "For the finale, all the singers will come together on stage and surprise the audience with a combo performance," says Wizcraft director Viraf Sarkari. 
In the beginning, 2010 school students will dance on Rahman's "Vande Mataram". There will also be a five-minute martial arts performance choreographed by Madhu Gopinath and Vakkom Sajeev, having 480 performers displaying styles from states like Kerala, Tamil Nadu and Nagaland. And then there will be a performance by Glasgow, host for the next Commonwealth Games.
Shera, who during the opening ceremony, was only dancing outside the JLN Stadium, will have a special act. Buzz has it that Euphoria have also been asked to perform. Invitations to Bollywood actors have also been sent.While Ashima-Leena have designed costumes for 2010 students, the rest are Anna Singh's designs.
 "I've designed for the singers keeping their personality in mind. You'll see different colours in each segment," ensures Anna. Formore, as Shovana puts it, "You should come and watch it!"
Those set to sing include Sukhwinder Singh, Shiamak Davar, Richa Sharma, Shankar-Ehsan-Loy, Kailash Kher, Zila Khan, Kamal Sabri, Sunidhi Chauhan, Sivamani, Shaan and DJ Suketu.  
 Says Virak Sarkari, "Globally, for all sporting events, the opening ceremony is meant to be a spectacle and the closing, a celebration for the success of the games. We've kept the tradition. Nobody would like to see heavy stuff in the closing, so we're keeping it lighthearted so that the audience and players can just let their hair down. It's a song and dance musical explosion. We're using 7,000 performers. It's going to make everyone in the stadium sing and dance."
The opening ceremony highlighted Indian heritage, but this time, Sarkari promises a more youthful, energetic and contemporary closing ceremony.
 "Nearly 60% of our population is young, so we are keeping the function very youthful and high-tech. It's going to be a big concert – the largest technological display of a musical extravaganza," says Bharat Bala, games creative director.
Led by the Wizcraft trio – Viraf Sarkari, Andre Timmins and Sabbas Joseph – it took over 120 full-time employees, over 7000 performers, 200 technicians from India and abroad, and a set of international consultants to pull off the spectacular opening ceremony.
 "We started the process in 2008. The shortlisted firms had to make a presentation of what they planned. 99.9 per cent of what you saw at the opening was what Wizcraft had presented at that time," Shovana, special director general for the opening and closing ceremonies, says.  
Viraf speaks about the show stealer, the aerostat balloon, "We wanted something very spectacular to be the central element as well as something that could execute a few technical jobs. Our production designer Mark Fisher sketched it and brought to us. We showed it to Suresh Kalmadi, people in the sports ministry, the government, and multiple security agencies. For us, the field was one big stage. Our schedules went topsy-turvy because of the rains, and our rehearsals at the stadium began only on September 22."
After having pulled off two great ceremonies, Wizcraft is also set to host a premiere/nomination party for the IIFA awards at the spectacular Kingdom of Dreams, a few days ahead of the award ceremony in Toronto. The team will also organise the opening ceremony of the ICC Cricket World Cup.   
A German firm, which put up a show at the closing ceremony of FIFA World Cup, winter Olympics at Vancouver and Athens 2004 Olympics, has been roped in for an eight-minute laser event that promises to mesmerize and dazzle audience at JN Stadium with dancing lights.
Managing director of Tarm Showlaser, Ralf Lottig, who came to India on Monday, said, ''We promise our show will be something never seen in India before. We were asked to come to India last week only. The expectation from the show is already very high. We have 40 smoke machines, 10 full-colour laser systems and 40 blowers.''Sources said the theme that Tarm Showlasers will use for their show was still not final.  
''We have several ideas that go with contemporary and modern India. We are discussing them with OC and officials of Wizcraft International,'' said a Tarm official.Laser equipment weighing around seven tons was airlifted and brought to Delhi last Saturday.  
According to OC officials, the laser show will cost around Rs 1.5 crore and equipment with laser lights, graphics and special effects will light up the sky at JN Stadium on October 14.
Tarm technicians termed JN Stadium as one of the best stadiums in the world for such an event. The laser lights will also be used during the programme on dance and martial arts. The coordination between the laser systems, aerostat and performances will be done by the art directors. The special effects will see use of multi-colour lights.
OC officials hope the laser show will be as popular as the aerostat, if not more. The Tara team, which has been assigned duty at JN Stadium, comes with an experience of more than 20 years in the business. 
The team members had handled assignment at Athens 2004 Olympics after which their company grabbed headlines all over the world. 
Lottig says that apart from performing at mega events, the company has also provided services to celebrities. Its list of clients include Pink Floyd and Whitney Houston.