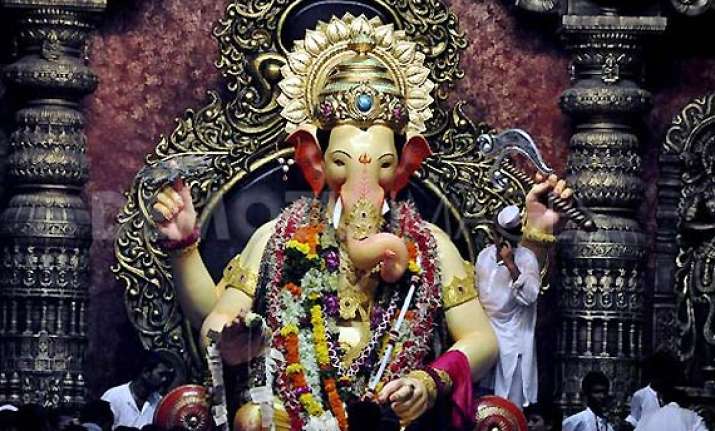 Mumbai, Aug 30: As the first look of Lord Ganesha idol at Lalbaug was unveiled on Monday, the media was informed that a seven kg weight gold necklace (12 feet long) has been made this year to adorn Lalbaugcha Raja.

Lord Ganesha's idol at Lalbaug is considered the 'richest' among all Ganesha idols in Mumbai and neighbouring towns.

Worth Rs 1.5 crore, nearly 14 goldsmiths were on the job for the last two months to give shape to the gold necklace for Lalbaugcha Raja.

The gold ornaments of Lalbaugcha Raja have been insured for Rs 6 crore while the pandal, a vast spectacle, has been insured for Rs 3 crore. Even the safety of devotees has been insured for Rs 5 crore, organisers said.

Meanwhile,  the number of closed circuit television (CCTV) cameras has increased from 30 last year to 150 this year for Ganesh Puja in Mumbai, the organisers will be helping the police department with 4,000 volunteers.  "This is 1,000 more as compared to the previous year," Seth added.

The police would be deploying over 5,00 constables (in two shifts) and an officer of the rank of a deputy commissioner of police (DCP) would be on supervising duty round-the-clock.

The police have also roped in contingents of Rapid Action Force and Quick Response Team.

A squad from the Bomb Detection and Disposal Squad will be permanently deployed near the venue with at least two sniffer dogs (in shifts) who will continuously inspect the pandal premises.

Meanwhile, the police authorities handed out printed booklets outlining strategies to prevent and deal with emergency situations to organisers at a meeting in Deonar.

"Considering the huge turnout of people during the ten-day festival, it is vital to be geared up in advance. Since there could be a shortage of police authorities to guard all the mandals, we have requested all the organisers to send around ten volunteers, who will be specially trained to deal with crisis situations," said Sanjay Shintre, DCP, zone 7.

"We are also requesting the mandals to install CCTV cameras inside the pandal with a 15-day recording facility," he added. 

"Every year we conduct such meetings to alert the mandal organisers about the possible threats," said Naresh Dahibawkar, chairperson, Brihan Mumbai Sarvajanik Ganeshotsav Samanvay Samiti, the umbrella body of all city mandals.

For mandals that plan to immerse their idols in ponds located in another zone, prior permission should be sought from the police authorities.